KROQ's Almost Acoustic Christmas
KROQ's Almost Acoustic Christmas
LL may be going to AA but that hasn't cut back on her nightlife. She made it out last night to score some swag and also attended the KROQ Almost Acoustic Christmas event in Universal City this weekend. The annual event takes place over two nights and included Fall Out Boy, My Chemical Romance, AFI as well as older favorites like Beck, Foo Fighters and many more. Here's highlights: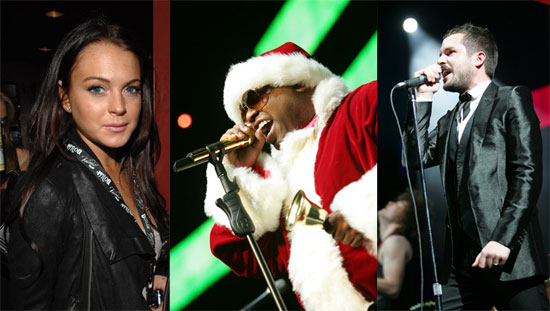 Beck...married his set to a marionettes show at the back of the stage. 30 Seconds to Mars raced through the aisles dressed in Santa Claus costumes. Cee-Lo and Danger Mouse also came as Santas and the rest of Gnarls Barkley dressed as elves (the singer introduced himself as "Dirty Santa and the Ho Ho Hos").
Gnarls Barkley had...enough charisma to last all night in singer Cee-Lo, whose between-song banter and perma-smile certainly brought good tidings of joy. "This is the very reason I am rich and famous today," Cee-Lo said as he introduced the Grammy-nominated "Crazy."
"We're the only band without a Christmas gimmick," Evanescence singer Amy Lee joked backstage as the Gnarls girls rushed to the stage behind her. "I don't care though. That's metal."
Well, despite Evanescence, it looks like there was enough Christmas spirit to go around. The show looks like it was a blast. For pics including Beck, Gnarls Barkley, Jimmy Kimmel, Sarah Silverman, Snow Patrol, Panic! At The Disco, The Killers, Foo Fighters just read more