Kanye Guides TV Stars To The Afterparty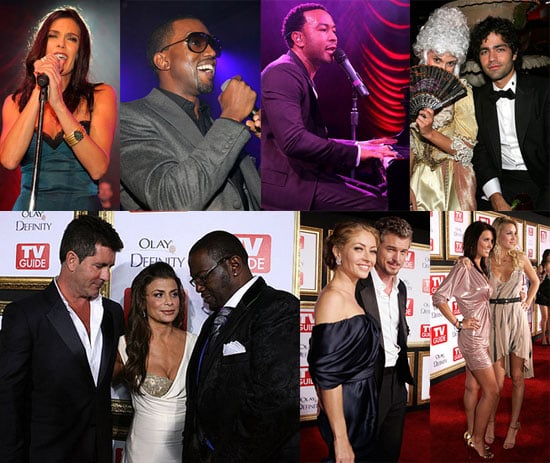 0
Kanye Guides TV Stars To The Afterparty
The Emmys ended but the fun certainly didn't stop there. Our favorite American Idol judges and boys from Entourage were among the many celebs who headed to Les Deux for the TV Guide party. Obviously the girls from the The Hills would never miss a party at their favorite hotspot, and Eric and Rebecca weren't ready to go home either. Scary Teri even took it upon herself to sing a song or two and even had a complete wardrobe and hair change. The mic was also passed along to Kanye and John Legend who performed for the stars. Looks like Kanye had no problem getting back in the limelight after Rainn Wilson totally stole his thunder during their hilarious skit at the show.
There are so so so many more pics including Ellen Pompeo, America Ferrera and all of your favorite stars so it would be silly not to
Images include Ellen Pompeo, Teri Hatcher, Joey Fatone, Ryan Seacrest, Paula Abdul, T.R. Knight, Ali Larter, America Ferrera, Andy Dick, Ana Ortiz, Audrina Patridge, Becki Newton, Beau Garrett, Bonnie Somerville, Debra Messing, Eliza Dushku, Eric Mabius, Greg Grunberg, Jack Coleman, James Denton, Jennifer Morrison, Jerry O'Connell, John Legend, Jamie-Lynn Sigler, Larry Birkhead, Lisa Rinna, Maggie Grace, Michael Urie, Randy Jackson, Rebecca Gayheart, Rebecca Romijn, Sara Ramirez, Simon Cowell, Stacy Keibler, Vanessa Williams, Whitney Port, Chris Diamantopoulos, Adrianne Curry, Christopher Knight, A.J. Cook, Adrian Grenier, Andrea Bowen, Brenda Strong, Eric Dane, Hunter Parish, Allison Tyler, Kevin Connolly, Kevin Sorbo, Sarah Chalke, Constance Zimmer, Russ Lamoureaux Joel McHale, Rex Lee, Christopher Gorham, Kanye West.