Kanye West on Jimmy Kimmel Live 2013
Kanye West Faces Off With Jimmy Kimmel — Did They Bury the Hatchet?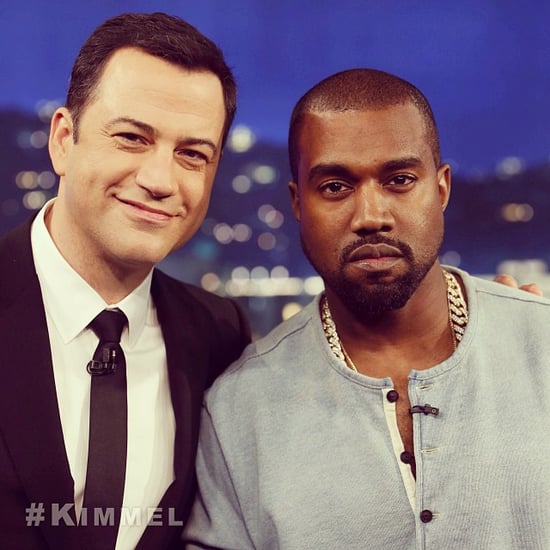 Kanye West made an appearance on Wednesday night's episode of Jimmy Kimmel Live! He had some special support for the much-anticipated interview as his girlfriend, Kim Kardashian, and daughter North West were spotted arriving to the LA studio with him. Kanye kept things casual in ripped jeans and a loose shirt and seemed to make himself comfortable on the set, leaning back in his chair and even cracking a few jokes. He told the crowd, "I'm not running for office. I'm just here to make good music and make people feel good when they hear my music." In true Kanye form, he also went on to refer to himself as "a creative genius," saying, "There's no other way to word it." He added, "I know you're not supposed to say that about yourself, and I say things the wrong way a lot of times, but my intention is always positive."
Kanye's Kimmel stop marks the first time that the rapper and talk show host have come face-to-face since their epic (albeit rather one-sided) feud broke out late last month. After Jimmy spoofed Kanye's in-depth BBC Radio 1 interview on the show, the hip-hop star took to Twitter to call Jimmy "out of line" and lobbed insults at the comedian, including a claim that "Sarah Silverman is a thousand times funnier" than he is. That being said, it was a surprise to everyone when earlier this week Jimmy tweeted, "TOMORROW NIGHT, MY GUEST WILL BE @kanyewest (for real, yes and was it all a setup, no)." When Jimmy addressed the fact that their recent online feud was thought to be fake, Kanye retorted, "Everyone needs to know I've never done a publicity stunt in my life. I don't do publicity stunts period."
See highlights of what we learned from Kanye West's interview with Jimmy Kimmel when you keep reading.
Just because Kim is on reality TV, doesn't mean she can't have a star: "There's no way a Kim Kardashian shouldn't have a star on the [Hollywood] Walk of Fame. Everyone is so dated and old-fashioned."
Kanye is very protective: "I could care less about any of these cameras. All I care about is my family, protecting my girl, protecting my baby, and protecting my ideas and my dreams."
And he's not a liar: "I'm totally weird, and I'm totally honest, and for me to say I wasn't a genius, I would just be lying to you and to myself."
Kanye likes cool stuff: "I spent two of my checks in telemarketing when I was 18 years old on my first pair of Gucci slippers, and this was before H&M and Zara. You couldn't just find cool stuff growing up, and for me, I care about cool stuff, it means a lot to me and people like me."
He sends his haters to the left: "You're gonna love me, or you're gonna hate me, but I'm gonna be me."
He's fascinated by Twitter: "I thought [the feud] was amazing; to crack media in a way. I do everything I can to break media."
Kanye is not about classism: "[They say] 'You're a rapper, and your girl's on a reality show.' It's snobbery. I'm not into all that snobbery. All we want to do is make awesome stuff."
He's not totally against the paparazzi: "You do help me get money, paparazzi; you show people how fresh my outfit is. But don't ask me about something you saw in the tabloids. Don't antagonize me. It's not safe for you in this zoo."
While Kanye's appearance on the show was more of a therapy session than a formal sit-down, it seems safe to say that he and Jimmy have squashed their beef. Jimmy apologized for hurting Kanye's feelings with the spoof, and Kanye even admitted that his "ego flared up" and that he "took it back to high school for a little bit." What did you think of Kanye and Jimmy's face-to-face chat?