Kate is still soaking up the sun in Thailand this week but no new news on her recent wedding to Pete. She denied it but stay tuned. We're happy to see lots of pictures of her laying low instead of partying with Pete. And even better, she has returned to her roots by getting classy in the latest Burberry ads. Here's more: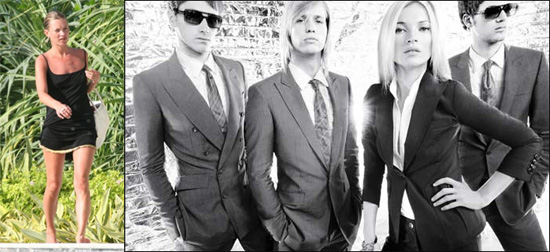 Kate, 32, was axed by the fashion house in 2005 after her coke addiction was exposed. But now she stars in a 1960s-style line-up of London's hippest young things, including Bryan Ferry's sons Isaac and Otis, Keith Richards' daughters Theodora and Alexandra, Ronnie Wood's son Jesse and Richard Branson's son, Sam.

The ads, shot by Mario Testino, are based on the work of legendary snapper Cecil Beaton. Didn't he like to photograph high society?
We'll have to respect Kate's wish to be with Pete for now. But doesn't she look fantastic with these clean-cut boys? We can dream, can't we? For lots more pics of Kate in her bikini in Thailand just read more