Kate Hudson Denies an Engagement to Matthew Bellamy and Reveals She Thinks She's Having a Girl
Kate Hudson Denies an Engagement and Thinks She's Having a Girl!
Kate Hudson and her parents, Goldie Hawn and Kurt Russell, hopped on the Eurostar this morning for a journey to Paris after enjoying a chic dinner in London last night. The trio were together in England since Kate arrived there over the weekend, though she broke from their sight-seeing to swing by The Graham Norton Show yesterday to chat about her movie with Gael Garcia Bernal, A Little Bit of Heaven, which opens in the UK in early February. Conversation naturally moved on to all the exciting developments in her life, like her pregnancy and rumored engagement. Kate denied that she and Matthew have plans to marry, but she did reveal that she thinks she's having a girl! Kate said: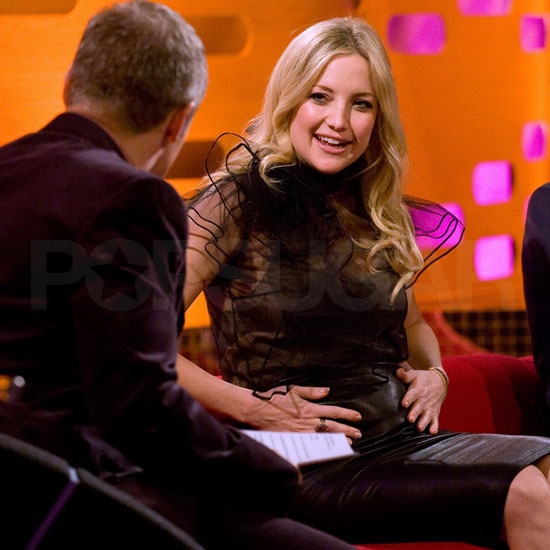 On her bump: "I'm just starting to pop."
On thinking about names: "We have a couple of names but we're not telling anyone. People tell you so much, it drives me nuts."
On knowing the gender: "It feels like a girl, but I don't know. Ryder thinks it's a girl."
On her and Matthew's plans to wed: "No, no, not that I know of! I don't like putting that sort of pressure on it and I don't feel it necessary to get married. . . . I am 31 I already have one child and have had one divorce so it is not necessarily the golden ticket. I just want to be happy."
To see more Kate, just read more.