Kate Hudson Interview For The Reluctant Fundamentalist
Four Quick Quotes From Mom-of-Two Kate Hudson on Her New Movie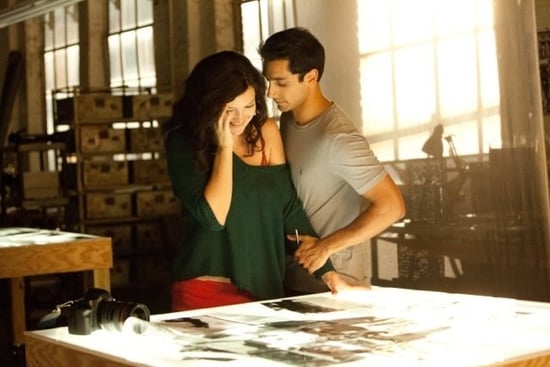 Kate Hudson stars in The Reluctant Fundamentalist, which will premiere at the Tribeca Film Festival tonight. The film, which documents the life of the protagonist, Changez, as a Pakistani in post-9/11 America, also opened the Venice Film Festival last year. Kate went brunette to take on the role of Erica, an emotionally distraught character, who shares intimate scenes with costar Riz Ahmed, who plays Changez, in the movie. We caught up with Kate today at a press event for the film where she spoke about balancing motherhood with work, drastically changing her look for the role, and her connection to the intimacy of her character. Read on for four quick quotes from Kate Hudson:
On playing an emotional character: "As an actor by nature I am enormously empathetic and playing a character like Erica, I think I instinctively tapped into the idea of when you experience some kind of trauma in your life or something that has informed how you make decisions."
On intimacy and relationships: "This film does lend itself to extreme circumstances but underneath it is something everybody can relate to and it's that thing of when you enter relationships, true intimacy is when you have to deal with your own wounds and in order to truly be intimate with somebody, and in this case neither of us at this time in our life could do that. That's where you learn most about yourself — when you enter those kind of relationships, so this love connection becomes a place for them to know more about where they are at and who they are."
On balancing her work with her family: "I don't know if it was because I was breastfeeding but . . . I was going in and out of breastfeeding to being extremely focused on this extremely emotional character. There were scenes in it that are no longer in the movie that we shot. Mira and I laughed because [Kate's character] was written a mess and we dialed it down a bit because we wanted to enjoy their intimacy rather than her problems but yes having a 2-and-a-half-month-old baby, breastfeeding, and tapping into those kind of emotions left me quite exhausted."
On changing her look for the film: "You know it's funny because I have always felt like even when I am doing a romantic comedy, I am looking at a character for a character, and everything shifts and changes a bit, and in this particular case Mira really wanted Erica with her hair tonally richer, and to have depth in terms of the aesthetic of what it looked like. Mira was very specific about how she wanted me to look in the movie and I as an actor want to facilitate my director."