Kate Hudson Loves Her Family
Kate may be going through a divorce but you probably won't see her hitting the clubs in her underwear. Her family is her priority and Kate only hopes she can instill the same sense of values in Ryder as her parents did in her. Kate recently raved about her family. Here's highlights: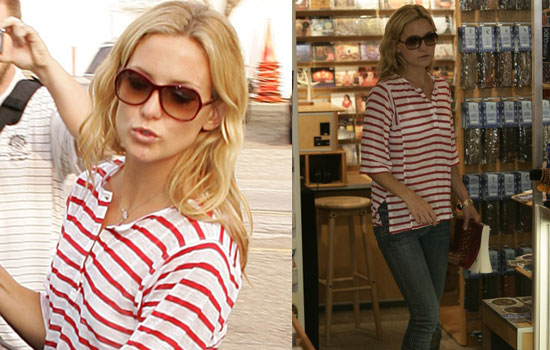 On Family:
We have so much fun with my family. I only hope that our kids have as much fun as us. There's nothing like it. There's nothing like really being able to say - yeah, I'd rather be with my family. Because it's rare and most people don't have that kind of relationship with their family and it's the one thing that my dad always said. It's the only thing he ever wanted to really succeed in - was wanting us all to have a good time together - and he did it - and that's like the biggest success of anything you could possibly imagine - and we really figured that out at the wedding - we actually vocalised it at Oliver's wedding. It was one of those things where we all went "You know what? This is so rare, this is so great!" One of us will be the weak link in the family and the family will just be disastrous. We'll just go, "Oh God! Send them to our grandparents' house". But, it's great.
On Motherhood:
I don't think it's ever what you expect. I mean in a sense, I knew I was going to be tired (laughs). Being a Mum and a working Mum it's never easy but no, every day, it's just crazy. It's insane. I mean, as I said, the little things that just come out of his mouth like that - you just look at him and think - is there anything that's not more fun than that? I mean that's it. And you realise when you have your babies or when you love being a mum like I do - that no wonder all my parents wanted was for us to have a good time together. That's all I wanted. I want him to be happy. I want him to realise that he can do anything he wants to do as long as he works hard for it and enjoys it.
Seems like she is doing a great job even during the split. Kate looks great and we're betting on some romance for her in 2007. For more pics of Kate at a Malibu bookstore just read more