Kate Moss may get married, have a baby, and become a rock star all at the same time. How does she plan to do all that and keep an eye on Pete? Turns out she's laid some ground rules to help whip her man into shape. Here's more: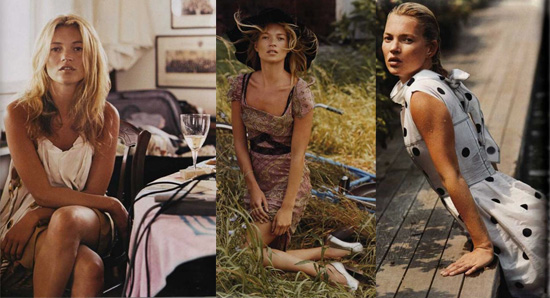 The 32-year-old supermodel is calling the rules 'Kate's Commandments' and insists the junkie rocker must stop taking drugs, end contact with his 'loser' friends and call her at least thee times a day.

Pete, 27, must also stop flirting with his groupies if he wants to make Kate his bride, start eating properly and spend two hours every day writing poetry and music.

A source said: "Pete is prone to going AWOL. Kate has warned Pete that if he doesn't comply, their relationship is off."
It's good to have boundaries. And we all know Pete needs them, especially if he's going to be a husband and a daddy so soon after his stint in rehab. I wonder if Kate has thought about putting those commandments down in the form of a prenup. For more pics of Kate looking fabulous in this Vogue spread read more