Kate is the face of a record number of ad campaigns, but she might be taking one brand off her list. She is threatening to pull the plug on her partnership with Agent Provocateur. Apparently it all has something to do with Kate being a loyal girlfriend. Rumor is the owner of the label, Serena Rees, hooked up with a man who is married to one of Kate's best friends. Here's more: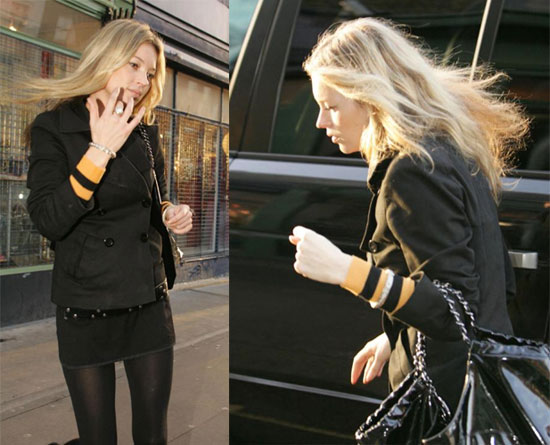 Serena walked out on her husband and business partner Joseph Corre, 39, last week. Now Kate, who has appeared in a promotional film for the upmarket lingerie, has told Serena that she wants nothing more to do with her.

"Kate is furious with Serena and thinks her behaviour is appalling," says my source. "Kate is now picking up the pieces for her best friend Tricia, who was married to Paul. Their whole circle of friends has just collapsed.

"Kate was planning more promotional films for Agent Provocateur, but because of Serena's behaviour she is threatening to pull out."
Good for Kate for being a loyal friend but we were hoping to see more of those movies. Stay tuned since we will definitely be staying on top of this one. To see more pics of Kate out and about in London, just read more