Kate Moss Bikini and Topless Photos in St. Barts
Kate Moss Goes Bikini Topless For Romantic St. Bart's Vacation With Jamie!
Kate Moss didn't feel the need for her bikini top while frolicking in St. Bart's with boyfriend Jamie Hince yesterday. The two couldn't keep their hands off each other as they played in the sand, on an inner tube and aboard a friend's yacht. Kate's latest vacation comes on the heels of fulfilling her latest Topshop duties and releasing her next collection for the store. Back at home, she's also apparently dealing with both a burglary and a recent flood that damaged some of her belongings. That unfortunate combo sounds like the perfect reason to plan a getaway and the supermodel certainly knows how to relax and let loose with her loved ones.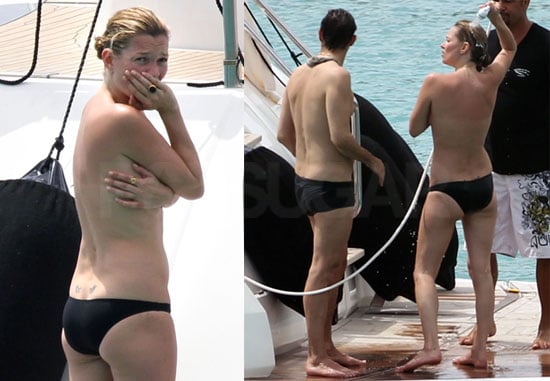 To see more (NSFW) of Kate, just read more.