Oh no. Could it be? Has Kate gotten knocked up by her man Pete? She would probably still have more ad deals than any other model out there but based on the recent pics of her smoking and drinking we sure hope she's not having a baby. However, family members are saying she's expecting. Pete's uncle, Phil Michels is blabbing away that Kate is pregnant and that the happy couple are very excited about the new addition. The Sunday Mirror reports the following based on this from Pete's uncle: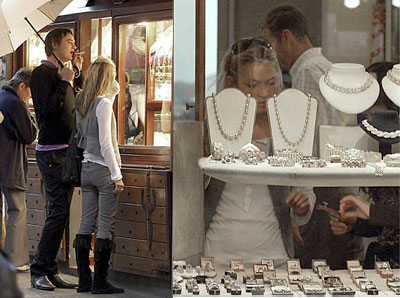 "I have spoken to Pete twice about the baby and he has confirmed that Kate is pregnant."

Phil said he spoke to Doherty on Friday when the singer called him from Italy, where he was performing with his band Babyshambles. The rocker told him Kate had had a scan, everything was fine so they were happy to share the news.

Phil said: "They are both delighted and Pete sounded really excited."

Kate, who has been relaxing in Italy with drug addict Pete, is expected to make an official announcement in weeks.
Check out Kate and Pete at a jewelry store in Florence. Could they be getting some wedding bands???