Kate's Style Secrets
Kate's Style Secrets
Kate Beckinsale is one of those lucky ladies who never looks like she tries that hard but always looks amazing. Now we get to learn a bit about her favorite items, signature scent and how her adorable daughter influences what she always carries in her purse. Here's more: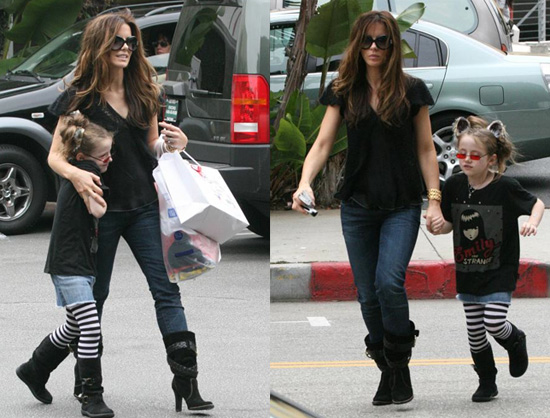 WHAT BRAND OF JEANS DO YOU WEAR? Nothing too fancy. I still like the old classic Levi's.

WHAT'S IN YOUR CAPSULE WARDROBE - PIECES THAT YOU WEAR ALL THE TIME?
I love to feel comfortable, especially if I'm running after my daughter. I have an old Juicy couture tracksuit, which I wear a lot. I know it's not glamorous, but I can't seem to throw it away.

WHAT MAKE-UP ITEM DO YOU ALWAYS CARRY?
I always seem to carry Sponge Bob plasters in my handbag. Obviously they are Lilly's, but it turns out I'm the one who ends up needing them. I'm a bit of a klutz.

DO YOU HAVE A SIGNATURE SCENT?
My husband is a big fan of the Jessica Simpson Dessert line. He will literally come at me with a spoon and a fork when I wear it. It kind of smells like cake batter.

IF YOU WANT TO LOOK GLAMOROUS, WHICH DESIGNER DO YOU RELY ON
You can't really go wrong with Gucci now. I always feel glamorous wearing a flowing Gucci number, no matter what kind of day.
More pics of Kate and Lily getting in some stylish mother-daughter time together so read more