Kate Winslet Golden Globe Press Room Quotes
Kate Winslet Reveals Dreams to Play a Man and Liz Taylor in Golden Globes Press Room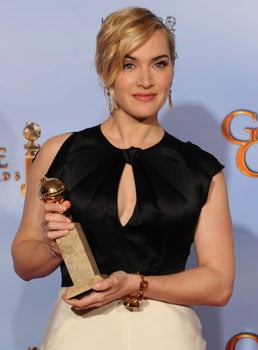 Kate Winslet stepped back into the Golden Globes press room shortly after accepting the latest statue for her collection. She won for her work in Mildred Pierce, but backstage, talk turned to future roles. She apparently has her eye on playing Elizabeth Taylor as well as taking on the part of a man someday. Plus, Kate told us why roast chicken became a favorite in her household:
On the rumors both she and Lindsay Lohan want to play Elizabeth Taylor: "I think I'll decline to comment, that's the first I've heard of that story. It's a massive undertaking for anybody who should be fortunate enough to get that part. I'm not gonna go there, dude!"
On dream future roles: "I would like to someday play a man. That is something that I do know. I don't know what kind of man. I don't know whether that would ever happen or not. That would be the ultimate challenge."
On learning to cook for the part: "I was taught to section up a chicken by Tom Colicchio! He used a technique that was quite old-fashioned so it married up. My children were eating a lot of chicken!"
On how Ricky Gervais is doing as a host: "He seems to be doing absolutely fine. I've been back here for about the past half-hour, so unless he's fallen over or started drinking too much, I think he's doing OK."
Best fashion advice she's ever received: "Wear something that I feel comfortable in, not to wear something just because someone else is telling me to. I think that is true of life as well."