Kate Winslet For Harper's Bazaar
Kate Winslet Is Just Hanging Around
Kate Winslet got to play Spiderman for her photo shoot in the August issue of Harper's Bazaar. She dangled delicately in front of a gorgeous NYC skyline but also went a bit risque in her sexy black outfit. In the article she talks Oscars, her body, and her life with Sam Mendes. Here are highlights: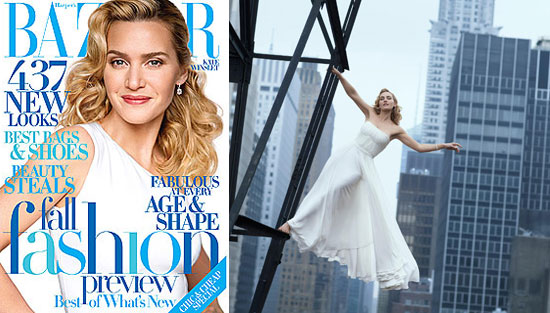 On being in the spotlight for awards season: "In the old days I'd just wing it, but now you need to give people what they want, which is someone looking composed, fresh, and put together. Our knickers will still go up our ass at the most inappropriate moment. And we'll still want to flick them out, but you can't, because someone is going to catch you."
On the constant speculation about her weight: "I've heard, 'Oh, she's toned and she's lost weight,' but I am exactly the same as I've always been. The one thing that had to go during awards season was exercise. People would say to me, 'Oh, come on ...' like I was lying about it! Some may find it hard to believe it, but I don't care about that stuff."
To see what else Kate had to say about her beauty and keeping the romance alive with Sam, just
.
On being the face of Lancôme: "I really thought, me? Seriously. Because I think what you feel like as a teenager never really goes away. If you were teased for being fat or thin or having bad teeth, you're always insecure about that particular area of yourself. So I've never thought of myself as any kind of beauty, iconic or otherwise."
On her idea of romance: "Ah ... romance to me is spontaneity. It's not diamond earrings; it's a bunch of daffodils that's freshly picked from the field. Or just a little thing like Sam calling me at three in the afternoon, saying, 'I'm coming home now. I'm done for the day.' It's romantic because he just thought, 'I'll go home. I want to be with Kate and the kids.' I'm not one for big, grand gestures." Like rose petals on the bed? "Ha! No, given American Beauty, I would walk in and be like, 'What the f*ck?' I would laugh my head off."