Katharine McPhee's Sexy Hair
Katharine McPhee's Sexy Hair
We all know Katharine bailed on the first part of the American Idol tour due to "severe bronchitis and laryngitis" but we were a bit skeptical. She seemed to be having too much fun in the pool with her boyfriend. Today she was on The View to defend her illness and to say she will be back with the Idols soon. She also had to dodge rumors that she missed the tour because of an eating disorder.US Weekly reported: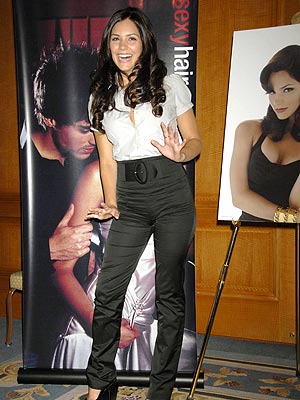 Meanwhile, a source says that McPhee (who said her five-year battle with bulimia was like "putting a sledgehammer to your vocal chords") was missing the tour because of the eating disorder. "The bronchitis/laryngitis was a lie," says the source. Her rep says that is "100 percent false."
While she did not deny the eating disorder today on The View she did say that was not the reason for missing the tour. Clearly her voice is fine now and she is everywhere this week. She also announced that she is the new Sexy Hair spokesmodel. I must say her hair does look nice.
Lots more images of Katharine so read more