Katie and Brooke New BFFs?
Katie may have quickly replaced her new BFF Posh with Tom's old enemy Brooke. The two Moms caught up at a private party this weekend and seemed to be having a great time. Meanwhile, Katie may have had a falling out with her old BFF. Posh and Katie had a fabulous girl's getaway to Paris a few short weeks ago, and we even heard Posh was helping to plan Katie and Tom's big day. But apparently their friendship is over since Posh suggested the soon-to-be Mrs. Cruise lose a few pounds. Here's more: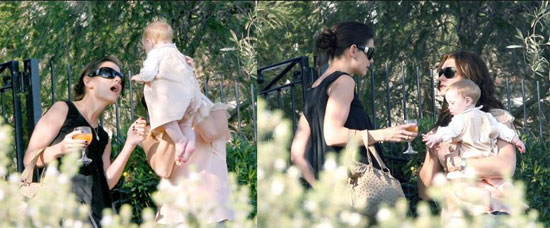 A close pal tells us Katie isn't best pleased after super-skinny Victoria suggested she shed a few more pounds before her big day. Posh, who has been plagued by rumours of eating disorders (which she strenuously denies), wants to help the actress get in tip-top shape for her nuptials. We're told: "Victoria didn't mean any harm, she just wanted to help Katie look her best for her big day. She offered to share her diet secrets but Katie immediately got defensive, saying she didn't need any advice.

"Katie is really proud of the weight she's managed to lose since giving birth to Suri in April and she doesn't think she has to lose any more."

Victoria also recommended Katie take her man to a barber's to get his floppy mop chopped before 18 November, when the couple will marry at a secret location. The pal went on: "Vic pointed out that Katie will have to live with his hair in the wedding photos for the rest of her life. She recommended Katie ask Tom to get a new, fashionable haircut like David."
Lots more pics of Katie with her new BFF Brooke so read more