Katie Holmes Brings Her Sexy Smirk to November Elle
Katie Holmes looks fresh-faced and gorgeous on the November cover of Elle. It's the "Women in Hollywood" issue, which, along with Katie, features Emily Blunt, Julianne Moore, Renee Zellweger, and Zoe Saldana. In the magazine, Katie talks a little about what it was like to be a mom working on Broadway as well as what kinds of movies she loves the best. Is someone angling for a cameo in Breaking Dawn? Here are highlights from Katie: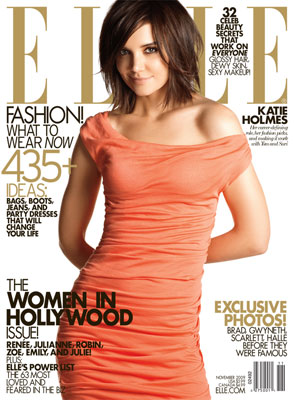 On family life "In my own life, my whole world really revolves around family. I do what I need to do, but it's like, 'How is everybody else doing?' And it's wonderful for me as an actress to put some of that into a character."
On being a working mom on Broadway during All My Sons: "Suri would sit in my lap in the makeup chair. She'd hand the wig lady the bobby pins."
On favorite designers: "I love Alaia, for sure. Stella McCartney. I like Ralph Lauren because I feel like it's very American, and I'm pretty all-American, from Ohio. Isabel Marant and a new designer, Sari Gueron."
On her favorite movies: "It can be any genre. I even like vampire movies – they just have to be well done. I want to believe in the characters. The minute it starts to feel not real, I'm not interested."