Katie Holmes InStyle Magazine January 2008
Katie's Fashionable Lifestyle
Start Slideshow
ADVERTISEMENT ()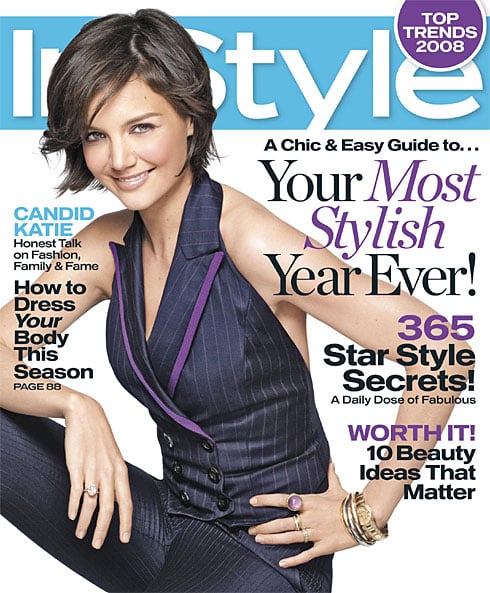 0
Katie's Fashionable Lifestyle
Katie Holmes looks stunning in her pre-dramatic bangs hair do for the January issue of InStyle. She's had quite the fashion metamorphosis over the past few years and is well on her way to fashion icon status. In the magazine on newsstands this weekend, "Kate" looks sexy in her pants suits, but we're loving the flirty dresses even more. In the article Katie opens up on just about everything, from Tom and Suri to life in general. Here are highlights:
On dressing for her husband: "Tom likes me in a suit and a mini every now and then. I like it when he likes it. It makes me blush. He'll say, 'You look good. I hope security's going with you.' Now that gives me attitude."
On love: "I still get like that, 'Whew.' When you fall in love, it's as though time stops. It's all-encompassing. I try every day to let him know how much I love him," she added. "It gets better and better. It has made my life."
To see more of what Katie had to say about Suri and having more kids, plus more pictures, just
On Suri: "Suri is talking up a storm, running around, so aware. She loves coloring and creating. She's a great mimic and dancer. She came to the photo shoot and was all into the shoes."
On more kids: "I'd love to. But I'm in no particular rush. We're enjoying our time right now."
On her day-to-day goal: "I want to go to sleep knowing I made my family happy, I made myself happy, and I worked hard in all aspects of life. It's really pretty simple."
Katie's life seems anything but simple to us, but we love that she just wants to keep her family happy like most moms out there. As for waiting to have more kids, we can understand her wanting to enjoy this phase of her life now but we certainly can't wait for Suri to have a sibling.