Katie, Posh, David Sick of Tom's Controlling Nature
Katie, Posh, David Sick of Tom's Controlling Nature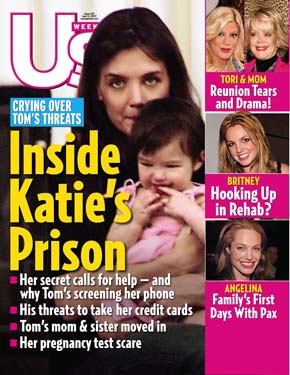 I was just getting into the groove of embracing the Cruise family, thanks mostly to Suri's cuteness, in all its inherent quirkiness (that is the word I'm using, yes), but the latest issue of Us Weekly is saying that all is not happy in the actors' household. The story claims, among other things, that Tom's controlling ways are getting to Katie, driving her to tearful late night calls with her good friend Posh.
Apparently, the Beckhams have their own set of gripes about Tom, stemming from his aggressively urging the couple to join Scientology when they move to the states. This isn't the first time that Tom has pressured David and Victoria to study the religion, but, if this Us article is to be believed, Tom's actions are bordering on scary. Says a source, "Not too long ago, Tom left 18 messages in one hour to get them to join the church."
While this sounds like a bit of an exaggeration on someone's part, Tom is obviously a driven and determined man. Hopefully, though, he can shift his focus from converting his good friends and instead just excel at the one thing we really want him to get back to -- his movie career. Considering he's got some exciting new projects in the works, that shouldn't be too hard of a request.