Suri is only 8 months old but rumors are circulating that Katie's pregnant again. She's been spied out a few times with what could be a baby bump and friends aren't surprised. A pal says that Katie was planning to go back to work after Suri was born, but she's enjoyed motherhood so much she'd be happy to expand her family more. Suri already has two siblings, but Katie evidently wants her to have one closer to her own age. So a pregnancy this soon makes sense. Life & Style reports in this weekend's issue: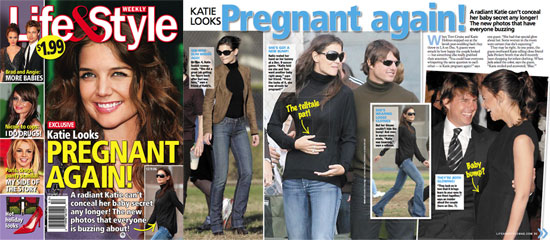 When Tom and Katie stepped out at the lavish post-wedding bash they threw in LA on Dec 9, guests were struck by how happy the couple looked - but something else really grabbed their attention. "You could hear everyone whispering the same question to each other - is Kate pregnant again?" says one guest. "She had that special glow about her. some women in the room were certain that she's expecting."

They must be right. At one point, the guest overhead Katie telling close friend Jada Pinkett Smith that she'd recently been shopping for infant clothing. When Jada asked the color, says the guest, "Katie smiled and answered, 'Blue.'"
It doesn't seem like anything is for sure yet. The bump could be her tummy. She did just have a baby, but like Britney and Heidi Klum, back to back babies is a new trend. That said, we aren't holding our breath on this one! To see the article just read more