Katie's Wedding Dress is all Picked Out
Katie's Wedding Dress is all Picked Out
Katie and Posh shopped all week long in Paris last week, the same city where just over a year ago Tom popped the big question. The new mom picked up lots of fabulous goodies for Suri and herself, but that did not include her wedding dress. Turns out Katie already has her special gown all picked out. People reports: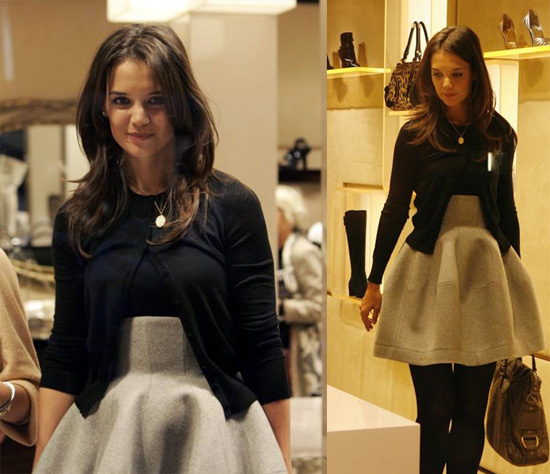 "I already have my dress," Holmes, who is engaged to Tom Cruise, told PEOPLE while touring the City of Light.

That didn't stop her from finding plenty of other items to indulge in. The actress, along with pal Victoria Beckham, hit three fashion week shows and did some serious damage at the city's famous shops. "I've been shopping all day," Holmes told PEOPLE on Friday. "They have beautiful things for babies here."

Indeed, the new mom scooped up pink finery at Baby Tuileries – and for Mom, eight pairs of Roger Vivier shoes, which start at $650.
The rumor is Katie's gown will be Chanel, so stay tuned.... More pics of Katie shopping for some of those fabulous shoes in her not so fabulous skirt so read more