Keira Gives an Elle of an Interview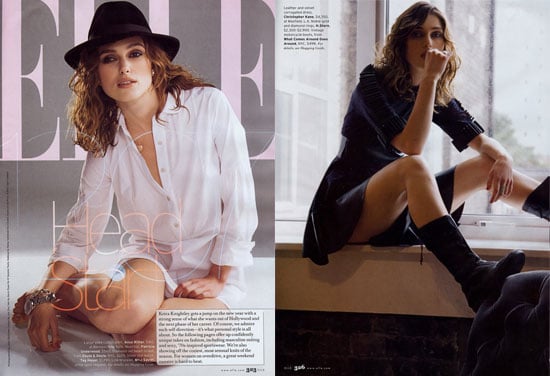 0
Keira Gives an Elle of an Interview
Keira Knightley is this month's Elle cover girl, the star of the upcoming film Atonement, and she had lots to share. Between dressing up in period costumes on set for The Duchess and gorgeous Chanel gowns on the red carpet, the British beauty had a chance to speak with the magazine about her feelings on cell phones, the commercial success of her movies, and winning her libel suit last May. Here's more:
On cell phones: "I hate them... It rings and then I realize that I don't want to talk to anyone. So I always press ignore... [After throwing her BlackBerry into the sea] I went, 'Oh, my God I want to be eco-friendly but I've chucked a BlackBerry into the sea... so I went diving into the water, which I hadn't actually been in, because there were meant to be barracudas or something, and I sort of fished around and couldn't find it anywhere."
On the lackluster performance of Domino: "That is a film that belongs in an art gallery... I remember when Domino came out and it didn't do well. I was on the set of Pirates and people were coming up to me like it was a funeral. And I guess I just don't see it like that. Obviously I know the business side of it, but I am fundamentally not in it for that reason. I'm very, very selfishly in it because it interests me and that will lead me to do films that don't do well at the box office.
On winning her libel suit in May: It was, "horrendous and completely devastating... because on another level it could potentially have ruined my career. Because if I had been anorexic, there is no way I would have been able to do a lot of the action movies that I do. People wouldn't have hired me. So when things are written that are trying to ruin my career, as that one was, I obviously have to take that very seriously."
It sounds like Keira is not going to let anyone get in the way of her cinematic success. Maybe it's that dedication that keeps the roles coming for Keira.
To see more of Keira in Elle just