Keira Knightley and James McAvoy of Atonement on the Cover of W Magazine
Keira and James' Stone Faced Atonement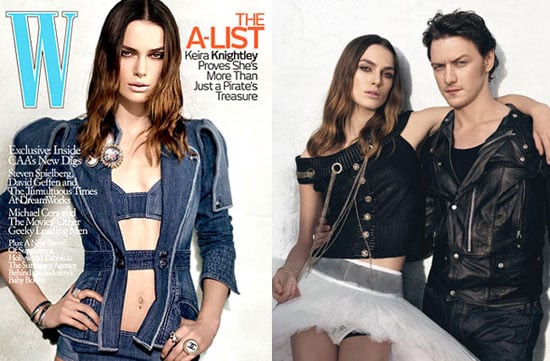 0
Keira and James' Stone Faced Atonement
Keira Knightley and James McAvoy, who have a lot to celebrate now that Atonement picked up the Golden Globe for Best Drama (good sign for those Oscars), recently sat down with W Magazine to chat about their much-hyped film. Keira, who is on many a magazine cover these days, sports lots of Chanel in the photos (perhaps some synergy between her outfits and that Chanel perfume contract) to go with her angry faces. A little scary, no? At least she lightened up in the interview. Here are highlights:
On taking time off: "It got to the point where you just get tired, and then you start to forget what you love about what you do. I wanted to be able to say to my friends, 'Yes, I will be there for your birthday.' I was having that discombobulated feeling of being homesick but not knowing what I was homesick for."
On being a professional: "From a very young age I realized that you didn't get parts if you acted like a child. So even at seven I remember picking a way to behave, a way that worked. Though in my personal life I don't think I'm particularly mature. I don't particularly want to be mature!"
To see what else Keira says about her weight and award nominations just
On public rumors about her weight: "It's like having piles of s--- put on your head. As a teenager you put enough on yourself. You're a spotty emotional wreck whose body is changing, and you're just not equipped to deal with that sort of thing."
On awards season: "If the film gets awards or anything, great, but if it doesn't, it certainly doesn't devalue the project."
On being nominated for Pride and Prejudice: "It was great fun, and it was partly great fun because I was absolutely certain that I wasn't going to win, so it was just sort of going along for a jolly."
After Atonement's rave reviews and Golden Globe, Keira's chances may be better this time around. At the very least she should be up bright and early on January 22, when the nominations for the Oscars are announced.