Keira Strutted Her Stuff at Age Six
Keira Knightley looked kinda unrecognizable in those lashes on the cover of Strut magazine. She's always a bit of a chameleon when it comes to photo shoots and this is no exception for the glamorous, young actress. She's had a huge year of movies with Atonement, Silk, and Pirates, but she's still as sassy as ever. Oh, and before I forget, Fab's got the look for less on her stunning, green Atonement dress. Now, here's her quote on getting into acting: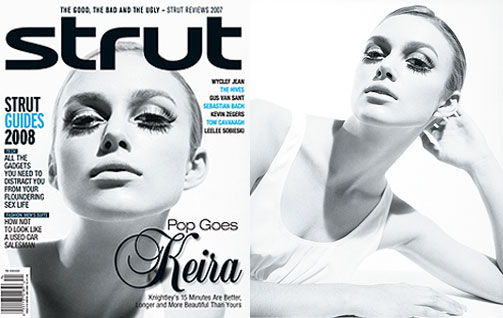 I don't think anyone who's in the acting profession would particularly want their kids to get into it — it's a weird one. . . . I was diagnosed with dyslexia when I was six, and I had an amazing headmaster who basically brought my parents into the office and said, "You have to find a carrot to dangle in front of her because that is the only way we're going to get her work, so what does she want to do?" And my mom said, "Well, she wants an agent" and was really embarrassed about it. And he said, "You know what — if you let her [act] during her Summer vacation and it's a present at the end of the year if she does very well, then it might make her work at school," which it did. So I was allowed to act in the Summer as long as I kept my grades up at school.
It sounds like little Keira was determined to make her dreams come true. It's no wonder at just 22 years old Miss Knightley has done so much. While she may not be all dressed up for this weekend's Golden Globes, her movies still could be winning awards. Don't forget to fill out our ballot for a chance to win a year of free entertainment.