Kerry Washington graces the cover of Glamour's October issue, which hits newsstands on Sept. 10. She channels her Scandal character, Olivia Pope, in the accompanying fashion spread, posing on a private plane and reading gossip rags while clad in designers like Dior, Prada, and Dolce & Gabbana. Kerry's breakout role in the hit drama has proved to be historic, making her the first African-American female lead in a network drama in almost 40 years, and her performance has even earned her an Emmy nomination. In addition to her professional achievements, Kerry is celebrating personal milestones as well. She serves the Obama administration as a member of the President's Committee on the Arts and the Humanities, she was named to Vanity Fair's International Best-Dressed List, and perhaps most surprisingly, Kerry got married to San Francisco 49ers cornerback Nnamdi Asomugha in a secret ceremony this June after quietly dating for a year. The actress opens up about her big year as Olivia Pope in the Glamour interview and also touches on her A-list alter ego, keeping her personal life private, and more. Read highlights and see more photos below.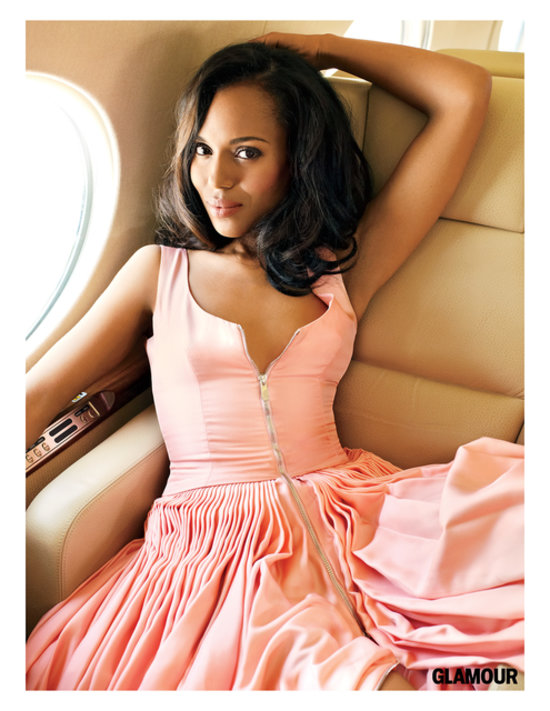 On her love of fashion and red carpet alter ego: "OK, I'm going to admit this: There were a couple of actresses whom I felt were having the upper hand career-wise — because they knew how to work that red carpet. I was like, 'I'm missing a really important tool. If I am the CEO of the Kerry Washington Corporation, my marketing department is really lax.' So I sort of developed a new character: Red-Carpet Kerry. And I researched her like any other character. I actually called Tracee Ellis Ross [the actress and Diana Ross's daughter], who's a good friend, and literally asked, How do you pronounce Hermès?' Red-Carpet Kerry needed to know."
On staying mum about her personal life: "I learned through experience that it doesn't work for me to talk about my personal life. I've had earlier times in my career when I did talk about it. I was on the cover of a bridal magazine [InStyle Weddings, in 2005, when she was engaged to actor David Moscow]. But I couldn't just turn around and say, 'I only want to talk about the good stuff, but not the bad stuff. So I just thought, OK, no more.'"
On her secret wedding to Nnamdi Asomugha: "I'm walking around in the world with my ring. And when people say congratulations, I say thank you. But I'm going to continue to not talk about it and just let it unfold. I don't want to sound smug about it . . . but the point is to do what's best for me. I have girlfriends in this business who talk about their personal lives, and it works for them, and I love it. But not for me."
What's in Olivia Pope's famous Prada bag? "Usually folders, pens, the phone on the show, and often a bottle of water to add a nice weight to the bag. And some panties in one episode!"