Kerry Washington on Vanity Fair August 2013 Cover
Kerry Washington on Her Scandal Character: "She Fully Owns Being a Woman"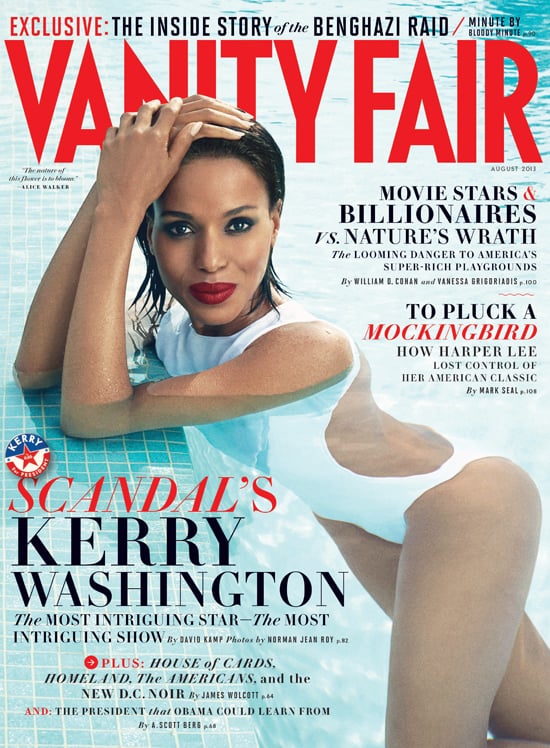 Kerry Washington shows her sexy side in a white cutout swimsuit for the cover of Vanity Fair's August issue. In the publication, which hits newsstands on July 9, Kerry opened up about her role as Olivia Pope on ABC's Scandal, as well as the similarities and differences between herself and the character. Kerry, like her onscreen persona, is very involved in politics — she spoke at the 2012 Democratic Convention and recently joined First Lady Michelle Obama to inspire students in Washington DC as part of her connection with the Obama administration's Turnaround Arts Initiative. Read Kerry's thoughts on her aspirational TV character, her political upbringing, and her past as a teen sex-ed teacher from Vanity Fair's August issue:
On her Scandal character, Olivia Pope, breaking boundaries: "One of the most profound things for me about the show is the number of white women of all ages who come up to me and say, 'I want to be Olivia Pope.' The fact that white women can see this woman of color as an aspirational character is revolutionary, I think, in the medium of television. I don't think white women would feel that way about Olivia if her identity as a woman, period, wasn't first in their mind. What I think is cool about Olivia is that she fully owns being a woman."
On her socially conscious upbringing: "My becoming a voting citizen was celebrated the way other people would celebrate a Sweet 16. My parents took me out to dinner, and we talked about who I was going to vote for."
On the "best actor training" she ever had, teaching safe-sex education to teens with an educational troupe: "We would stay in character after the show, and the audience would interact with us. It taught me the importance of really understanding everything about who you're playing, because you never knew what question was going to come."