Kid is Sick of Babysitting
The time has come to hear Kid Rock's side of the story. While we thought Borat broke up the couple, it turns out that Kid was sick of staying at home while Pam partied all night. He supposedly even left his beloved Detroit to move to LA for Pam and her boys. Page Six reports: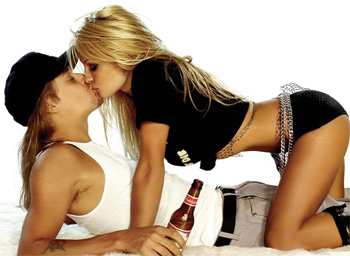 But once Rock was in L.A., he found himself a single father to not only his son, Robert James Richie Jr., but to Anderson's two kids, Brandon and Dylan, as well. "Pamela would go out almost every night and end up at [photographer] David LaChapelle's studio," Rock's friend says. "Bob was home alone with the three kids."

The "Baywatch" babe confirmed that scenario in this month's Blender, which quotes her as saying, "When I go to Hollywood, I start at the Chateau Marmont and then I usually end up naked in David LaChapelle's studio taking crazy pictures. That's usually a night for me. Four or five in the morning, lying across a car in David's studio."

Kid Rock was also said to suspect that Anderson was less than truthful about the miscarriage she claims she had. "Bob never saw any proof or heard from her at any time that she was pregnant. She announced she had a miscarriage. He flew to Canada [where she's shooting "Blonde and Blonder"] to be with her and she went out every night."
We still have to admit we were with GQ on this one. We really thought they could have been Newlyweds of the Year. Oh well.