Kiefer is a Hard Working Cowboy
We've been counting down to 24 and thanks to Men's Vogue we can get a little Kiefer fix until the show returns on January 14th. Kiefer spoke about working hard, making an impact and loving the response fans have to 24. He also addressed the drinking issue. When asked about a Rolling Stone article that pinned him as a drunk, he said,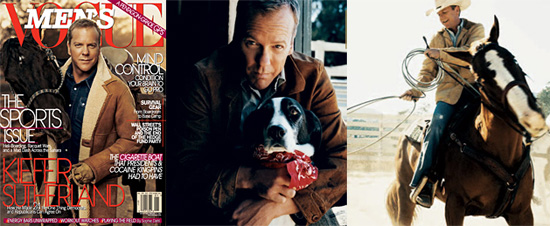 "24 must make itself while I am out in a bar somewhere. We have made 128 episodes. That's the equivalent of 65 films in a five-and-a-half-year period. That is as much as most actors' entire career. I maybe deserve to get drunk just once in a while. But I have never once been late for a day's work."
Good point Kiefer. Besides, looks like you got past this Christmas without taking down any trees. 24 will be back January 14th - until then, more of Kiefer playing the cowboy so read more