Kim Kardashian and Kanye West Engaged
Kim and Kanye Are Engaged — See Her 15-Carat Ring!
Kim Kardashian and Kanye West are engaged, E! Online confirms. Kanye popped the question in an over-the-top manner (as if we would expect anything else) by renting out San Francisco's AT&T Park for an epic celebration for Kim's 33rd birthday. Kanye asked her to marry him there, and hopefully soon we'll have more details on the surely one-of-a-kind moment. Kanye proposed with a 15-carat diamond ring from jeweler Lorraine Schwartz, and Kim was decked out in a Valentino minidress despite the chilly SF weather.
Kim was with Kanye when he kicked off his Yeezus tour over the weekend, and he's bringing it to the Bay Area with a show in Oakland, CA, this week. It's obviously going to be a meaningful next performance for Kanye, as he serenades his wife-to-be and mother to his daughter, North.
Kim's hairstylist posted a photo of Kim with her brand-new ring on Instagram, writing, "Guess what just happened!"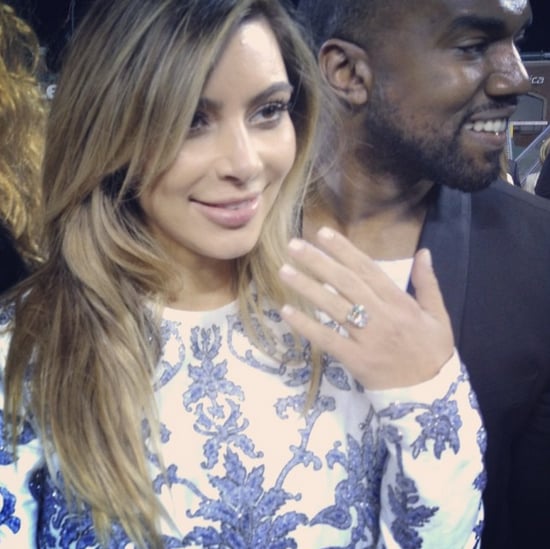 Here's an Instagram video of the Jumbotron that read, "PLEEEASE MARRY MEEE!!!!" while a 50-piece orchestra played.
Kendall Jenner also posted a photo of the scene.
Read on to see the other photos from the night!
Jaden Smith made an appearance in another photo that was posted.
Kourtney Kardashian snapped another picture of the screen.
Congrats to Kim and Kanye!