Kim Kardashian and Kanye West Engagement at ATT Park Details
Kim Blindfolded on a Baseball Field — Exclusive Engagement Details!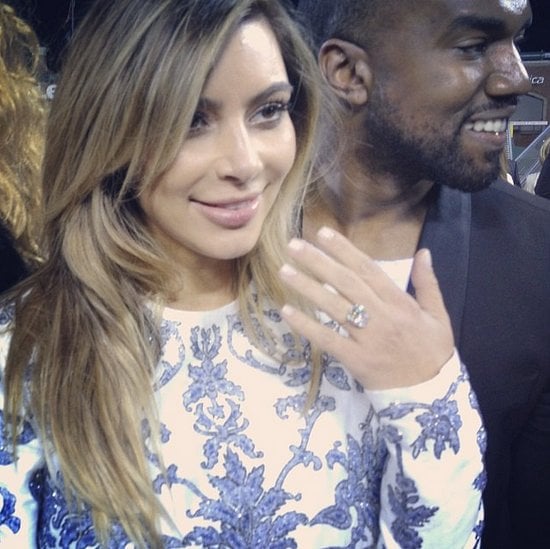 Kim Kardashian and Kanye West are engaged, but just how did it all go down? We have exclusive details about their incredible night at AT&T Park in San Francisco. It was a whirlwind Monday for Kanye, who swooped into SF at 9 a.m. for a walk through with his team, his Bay Area-based party planner Stanlee Gatti, and the staff who was in charge of pulling it all off in 12 hours. The initial emails about Kanye wanting to use the park came in on Thursday, but it wasn't until Monday that it all came together. In typical Kanye fashion, he had a vision for everything mapped out — including the exact wording for the Jumbotron, which read "PLEEEASE MARRY MEEE!!!!" But only a handful of people knew it was more than just a birthday party for Kim, who turned 33 yesterday.
Why AT&T Park? Our source who attended the event tells us that there was something about getting Kim out of her element that made it even more desirable to Kanye. The location "absolutely took her by surprise," we were told. "She thought she was just going out to dinner." Kim was blindfolded and brought in a car right onto the field, which was pitch black, save for a few space heaters, when she stepped outside into the chilly night air around 9 p.m.
Then came the sound of the crack of a bat and the cheers of a crowd from the sound system. That's when the fireworks went off and the lights came up to reveal the orchestra, some of whom had been flown in from Kanye's hometown of Chicago for the event. As soon as Kanye got down on one knee, the Jumbotron message flashed up. The music played as their friends and family — led by Kris Jenner — stormed out of the dugout to greet the happy couple. "I've never seen more pairs of Louboutins on the field at one time," said one attendee.
Family members and close loved ones Khloé, Kourtney, Kris, Kylie, and Kendall were joined by friends, including Jonathan Cheban and members of SF's elite tech crowd. Kanye's friend and adviser Virgil Abloh took the DJ booth, and the group of about 100 people celebrated on the field before bringing it up to the clubhouse level for more partying.
Kanye was "invested in the vision and very particular about what he wanted" but also "open to the expertise of the staff," our source revealed. As for nerves — only the very few who knew what he had up his sleeve ever would have noticed. He pulled it off without a hitch and managed to surprise Kim, his wife-to-be. The SF Giants may not have made it to the postseason this year, but AT&T Park still managed to have all eyes on it for one very special night in October.