Kim Kardashian and Kanye West Wedding Details
Everything We Know About Kim and Kanye's Wedding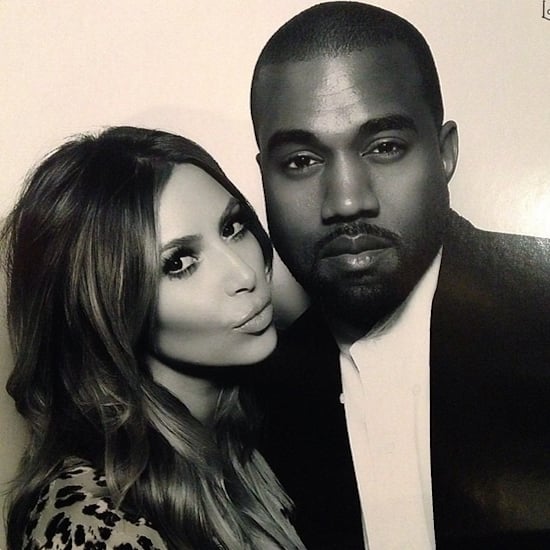 Kim Kardashian and Kanye West are tying the knot this weekend, and it's time for you to get caught up on the details before their big day. The couple, who got engaged in October 2013, haven't spilled too much info about their impending nuptials but have been spotted running a few errands that seem rather wedding-centric, including a trip to city hall in LA for a confidential marriage license and some possible dress shopping in Paris. Here's what we know about Kim and Kanye's wedding so far:
The Date
ET reports that Kim and Kanye's invitations have been sent out and urge potential guests to "save the date" for May 24.
The Location Is in France . . .
Kim headed to Europe in early April and visited Chateau Louis XIV, a 17th-century-style mansion in Louveciennes, France, just outside of Paris. She reportedly spent an hour at the location and "seemed very pleased." Kanye wasn't with her at the venue, but Kim brought along friend and Balmain designer Olivier Rousteing. Kim's mom, Kris Jenner, confirmed the location in an interview, saying, "Everything is on track, and they actually have a place there, they have a house in Paris." In mid-May, it was reported that Kim and Kanye had moved their location to the Palace of Versailles, but were refused permission.
. . . Or Maybe Italy?
Though Kris Jenner told the press that Kim and Kanye locked down a location in Paris, new reports have emerged alleging that the couple will actually be tying the knot at the Forte di Belvedere in Florence, Italy. A source confirmed to Us Weekly that the romantic city is "one of the wedding weekend locations," with another source adding, "Kim and Kanye have told all guests different info. No one knows all of the details." Apparently, guests will receive word about the weekend's events when they arrive in Paris on Friday: "At exactly 3 P.M. attendees will get a text saying what's happening the rest of the weekend."
But They're Getting Legally Married in California
Kim and Kanye reportedly got legally married in California earlier this month. The couple obtained a special "confidential" license that will allow them to stay anonymous in public records and have a court representative come to a location of their choice to officially marry them. France has special restrictions on who can get legally married within its borders, including a requirement that both parties have to have been legal residents for longer than 30 days before their marriage date. Since neither star is a resident of Paris, their best bet is to get hitched in the States and celebrate overseas.
Kim Will Wear More Than One Dress
In her 2011 wedding to Kris Humphries, Kim wore not one but three gowns — and it looks like she's planning to do the same for her nuptials to Kanye. A source close to the reality star says that there will be "multiple costume changes," and earlier this month, Kim was spotted in Paris with her pal Serena Williams doing what could have been some last-minute wedding dress prep. The duo stopped at Balmain before heading to Lanvin, and also visited the Marais showroom of designer Azzedine Alaïa. Vera Wang, who designed all three of Kim's previous wedding gowns, told reporters that whatever Kim wears down the aisle "will be a momentous fashion statement."
The Ceremony Will Be "Intimate," but Still Lavish
In the April issue of Vogue, Kim said, "People are probably assuming we're going to have this massive wedding, and I think it will be — but intimate." She added, "Two hundred people — just all of our closest friends — a special night for us and all the people that really love us and that have supported us." One of those people, fashion fixture André Leon Talley, recently speculated on details of Kim and Kanye's bash, saying, "There will be so many events; they'll be concerts, they'll be fabulous dinners. You'll probably have to go to a church, you'll have to go to a dinner — black tie, white tie — lots of changes of clothes and lots of luggage."
There Will Be a Very Special Wedding Singer
Kim and Kanye have reportedly hired Lana Del Rey to perform during one or more of their ceremonies. Their very famous wedding singer was spotted days before the nuptials heading to a departing flight at Heathrow airport in London, incognito in a ball cap.
Source: Instagram user kimkardashian, Front Page Source: Getty / Marc Piasecki