Kim Kardashian's Paper Magazine Shoot Details
4 Things You Need to Know About Kim Kardashian's Paper Magazine Shoot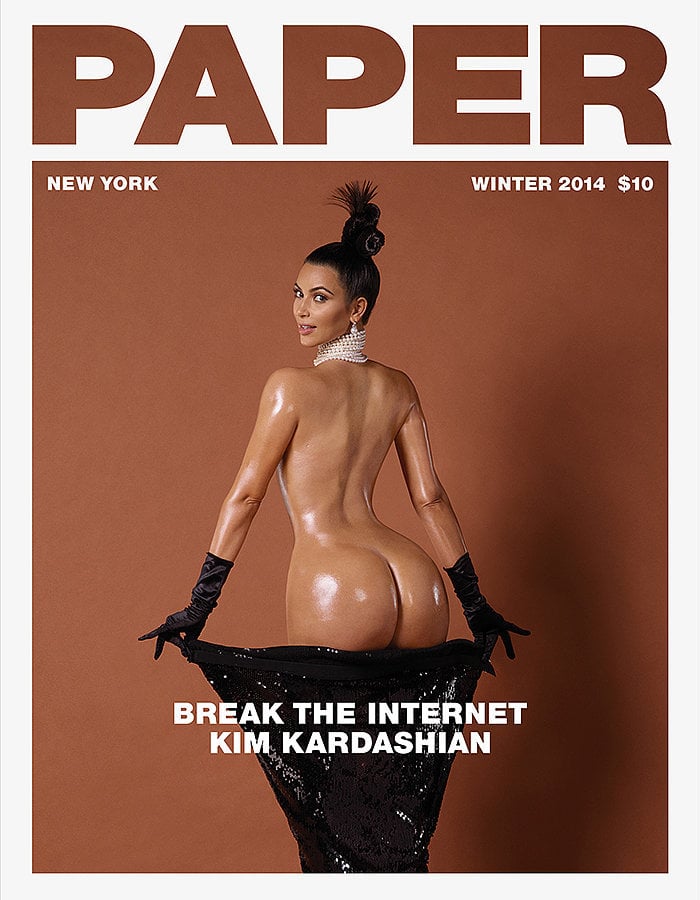 In the aftermath of Kim Kardashian's sexy Paper magazine photo shoot, public reactions have ranged from angry to disapproving to downright hilarious; loads of people, famous or not, have shared memes mocking the scandalous shots, and Glee star Naya Rivera even posted a comment on Kim's Instagram snap that called her parenting into question, saying, "You're someone's mother." Many people may be wondering just why Kim would agree to pose completely nude for Paper, but it's not like she's a stranger to baring it all for magazines — she's posed for Playboy, W, and, most recently, British GQ — and according to Paper's editorial director Mickey Boardman, getting naked for the shoot was "all Kim's idea," adding, "We hadn't planned for her to take her clothes off. She wanted to and it kind of fit."
Since there have been so many questions, complaints, and concerns about Kim's attempt to "break the Internet," we've gathered a few of the most important details, from how the whole thing came about to the original inspiration and racial undertones of the images. Here are some details about the Paper shoot that you may not have known:
She shot the photos during Paris Fashion Week: Sometime between sitting front row at Balenciaga, Givenchy, and Lanvin with husband Kanye West and their daughter, North, Kim stole away to pose for the racy photos. Editorial director Mickey Boardman told The Cut, "She arrived chased by paparazzi on motorbikes. And she, again, is on time and super nice to everyone. Her attitude was, 'If we're gonna do this, let's really go there.'"
Kim wasn't paid for the photo shoot: According to TMZ, Kim's sole motivation for the Paper spread was working with famed French photographer Jean-Paul Goude. A source at the magazine said that they "do not have the money to pay Kim her market value," adding, "Compensation was never really an option."
She had total control of the wardrobe (or lack thereof): The Paper shoot doesn't sound like it was originally meant to be a naked one, and Boardman said that Kim was just going with the energy of the situation, saying, "We hadn't planned for her to take her clothes off. She wanted to and it kind of fit with the thing, and Jean-Paul was super excited about her attitude and Kim was super excited. Everyone was excited about working together and making magic."
The inspiration for the shoot is rooted in racial tension: Photographer Jean-Paul Goude is widely known for his racially charged imagery throughout the '70s and '80s, especially those featuring his then-girlfriend and muse, Grace Jones. While the two were dating, he acted as her image consultant and shot many of her album covers, including Island Life, an iconic, impossibly elegant arabesque that is actually a montage of separate images — his signature style. The photo that served as inspiration for Kim's Paper cover is 1976's "Carolina Beaumont," a classic shot featuring a black model balancing a Champagne glass on her backside. It is one of many culturally significant photos published in Goude's pictorial autobiography, Jungle Fever, the cover of which features Grace Jones in a cage. The artist famously told People magazine in 1979, "Blacks are the premise of my work," adding, "I had jungle fever."

In addition to the public debate of Kim's naked body and how it plays into her role as a mother, another major argument to emerge after the unveiling of the Paper magazine photos is one of the objectification and fetishizing of black women's bodies — Goude's artistic narrative is fraught with controversial imagery depicting women of color as animalistic or primitive, and though it's risky to assume that Kim was aware of the photographer's history, some have speculated that she is contributing to the exploitation of the black female form in a harmful way.
Whether Kim set out to cause a racial debate, continue her reign as one of the world's most talked-about women, or just show off her famous frame, her Paper shoot is, indeed, breaking the Internet.
Source: Paper Magazine / Jean-Paul Goude and Jean-Paul Goude