Kimberly Stewart and Benicio Del Toro Baby News
Kimberly Stewart and Benicio Del Toro Expecting a Baby — Awesome or Out-There?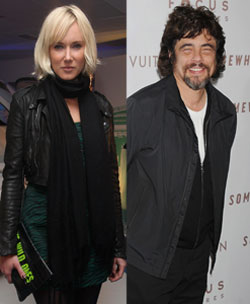 Today brought the latest addition to Hollywood's long list of expecting parents — Kimberly Stewart is pregnant with Benicio Del Toro's baby! Kimberly and Benicio are not a couple, but the duo are apparently both very excited. Kimberly was linked to Jude Law a few years ago after calling off her engagement to Laguna Beach's Talan Torriero in 2005, while Benicio's been more focused on his acting career recently. The child will be the first for both celebs in addition to the first grandchild of Rod Stewart, who just welcomed his own eighth kid last month. So, we want to know what you think — is it awesome or pretty out-there that Kimberly and Benicio are expecting?