Game of Thrones fans aren't the only ones swooning over Kit Harington these days. Thanks to his recent role in Pompeii — and a lot of shirtless scenes — Kit has a growing fan base and a budding Blockbuster career. In the upcoming issue of GQ, which hits newsstands on April 1, the British star talks about his fame, his body, and why it's "only right" to get naked for the popular show. Keep reading for Kit's take on the upcoming Game of Thrones season, his character, and his signature long hair, then check out the full interview in GQ.
On getting naked on screen: "It's only right, if you're going to make a show where nudity and sex is a large part of it, that you be a part of that."
On the scene where he jumps naked into a rock pool: "When it came down to it I had a broken ankle, so the only time you saw my ass, it wasn't my ass."
On the show's violence and a dark upcoming season: "It doesn't stop, either. It's getting worse. There's some scenes this season, and there's parts of it that go even darker. What I wonder is how people can deal with something going dark and dark and darker. Being unrelenting in how pessimistic things are. They really push it."
On Game of Thrones fandom: "I think people like Game of Thrones because people respond to not being treated like idiots. It's a really complex story, and it's very hard to follow, and people love working that puzzle out. And essentially why I think people like it is it's a rollicking good story with sex and violence."
On his character: "I think Jon Snow is one of the last bastions of a young hero who might do a good thing. There's a huge amount riding on him to be a leader, and I want him to become that leader. I guess for me, Jon Snow is a figure of hope within the whole thing — that he'll continue to be this good person, and somehow the story will end well for everybody."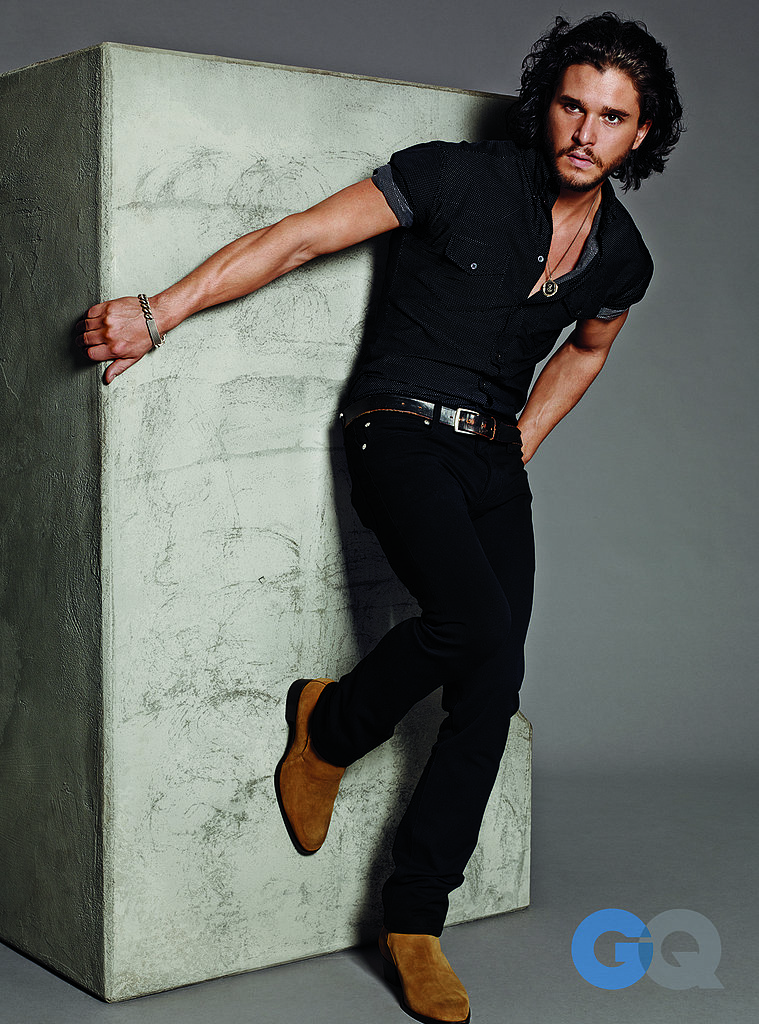 On fame: "I didn't really think I'd be a leading man in any respect whatsoever. At drama school in my third year I was resigned to the fate of being Young Male Rape Victim No. 2. That was the kind of category I was put in."
On being contractually obligated to long hair and a beard: "It does keep you restricted. I can't go off and play a US Marine. I like it to look greasy and medieval, so it gets very tangled. By the end it's pretty horrible."
On his body in the recent movie Pompeii: "That was f*cking a lot of work. But for a film sometimes you've got to do those sorts of things. For people's imaginations."
Source: Paola Kudacki / GQ