Kristen Stewart Makes a Comment About Dating Robert Pattinson — Unkind or Understandable?
Kristen Stewart and Robert Pattinson talked to Entertainment Weekly ahead of New Moon's release, in one of their many press appearances. When asked about their rumored romance, Kristen answered in an exasperated way. She said,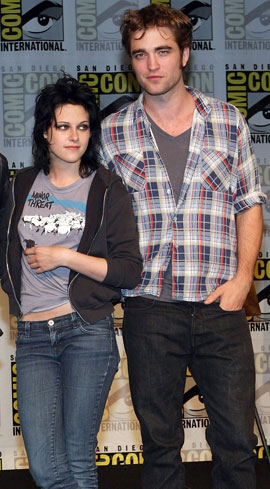 "I probably would've answered it if people hadn't made such a big deal about it. But I'm not going to give the fiending an answer. I know that people are really funny about 'Well, you chose to be an actor, why don't you just f—ing give your whole life away?! Can I have your firstborn child?' . . . There's no answer that's not going to tip you one way or the other. Think about every hypothetical situation: 'Okay, we are. We aren't. I'm a lesbian.' I'm just trying to keep something. If people started asking me if I was dating Taylor, I'd be like 'F— off!' I would answer the exact same way."
We can imagine that it could get irritating answering the same question over and over, but one might think she'd be more polite with a movie to promote. So, tell us what you think — are her comments unkind or understandable?