Kristen Stewart Talks Fame to BlackBook Magazine
Kristen Stewart Isn't Ready to Be Angelina Jolie
Kristen Stewart was still rocking her short dark hair on the New Moon promotional tour alongside Taylor Lautner in Brazil on Sunday, but here in BlackBook Magazine it's all about her luscious red locks. The Twilight star will be in the spotlight over the next few weeks as the movie's release date nears and Kristen has more to say about how much she doesn't desire fame. Here's more: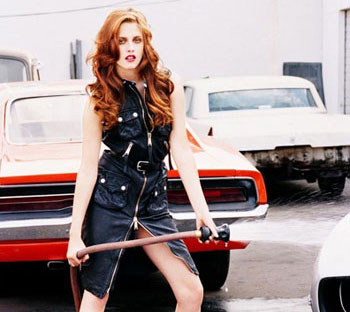 On her career goals: "I don't want to be a movie star like Angelina Jolie. Nothing about being a celebrity is desirable. I'm an actor. It's bizarre to me that everybody's so obsessive."
On the reality of fame: "Edward is actually a really good parallel to fame. As a vampire, he has a sad, desolate life—fame is the same."
For all the latest leading up to the premiere, check out TwilightSugar.com and check back tomorrow when we'll be looking for your fan questions for Kristen, but for now leave ones for Robert here!