Kristen Wiig Quotes
12 Reasons We Want to Be Kristen Wiig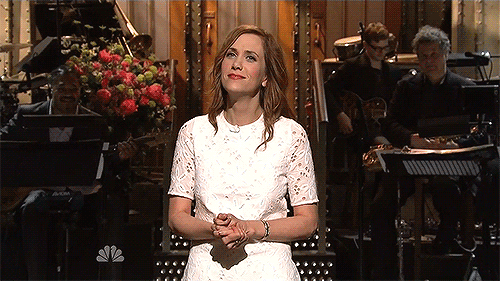 Funny lady Kristen Wiig turns 41 on Friday, and while we definitely adore the actress for her hilarious Saturday Night Live characters, we're moving beyond the laughs to reveal all the other reasons she's so worthy of a girl crush. Since leaving the SNL stage behind, she's juggled a variety of onscreen roles that show off both her comedy chops and her more serious side, and in interviews, she's opened up about everything from her teenage years to her vulnerability in a tough industry. With Kristen's enviable dance moves, her insightful quotes, and her low-key attitude about fame, comedy, and fandom, what's not to love? Let's celebrate her 41st with a look at the top reasons we'd love to be more like Kristen Wiig:
1. She Dreamed Big and Made It Come True
In 2013, Kristen told Vanity Fair about her childhood bedroom, which featured a few pop culture posters. "I remember in high school I had two prints on my wall," she said. "One was of the Blues Brothers movie, and it was a really big one. It was like five feet tall. And then the other one was an Academy Awards poster, and it had all of the movies that had won Academy Awards up until that year."
2. She Embraces Her Inner Fangirl
Kristen shared her celebrity obsession with Women's Health in 2009: "For most of my life I wanted to be Olivia Newton-John."
3. She Has Epic Dance Moves
No seriously, they're pretty incredible.
Even Amy Poehler's impressed.
It's the drunk jig that dreams are made of.
4. She's Genuinely Humble
In 2011, Kristen told Interview how she viewed herself, saying, "I never considered myself to be funny — maybe because socially I can be a little shy sometimes. I just didn't think that you could be both."
5. She Represents Women in a Real Way
While promoting Bridesmaids in 2011, Kristen told The Providence Phoenix about the importance of women writers in Hollywood. "If a female writer says that, no, really, this is how women think or, really, this is how women talk, I think people have to start trusting that a little bit."
6.
Jon Hamm

Finds Her Adorable

Source: Roadside Attractions
Kristen has acted alongside Jon Hamm on the SNL stage and in multiple movies, including Friends With Kids, and Jon had nothing but kind words for the actress when he spoke to Time in 2011. "She has that sadness and vulnerability that comics have but don't always show," he said. "She's also beautiful. She'd be horrified if she knew I was saying that. This is a lady who can wear coconuts on her boobs and talk out of her butt, but as soon as you say she's pretty, she gets super-embarrassed. She's always shrinking into a hoodie or a knit cap and doesn't want to be noticed, which is adorable."
7. She Doesn't Take Herself Too Seriously
For an appearance on Late Night With Jimmy Fallon, Kristen dressed as Michael Jordan, who just so happened to be wearing his old Bulls jersey and Air Jordans.
8. She's Sweetly Sentimental About SNL
In 2013, Kristen opened up about leaving SNL in Harper's Bazaar. "When I was on SNL, Saturday night was my favorite night," she said. "Now that I'm not on the show, it makes me sad. I don't cry, though. Well, there's a lot of solitary weeping because I'm a sensitive actress. But it is really hard to watch. Because I know that when the sketch is over, everyone is running around, changing costumes, and at like 2 a.m., everyone's hanging out at the party. It's been one of the hardest things to let go of, it really has."
9. She's Open About Her Quirks
Kristen talked about her younger years in Women's Health in 2009. "I used to carry my dad's empty guitar case around the neighborhood because I wanted people to think I played the guitar," she said. "I would put Flintstones vitamins in it in case I got tired, so I could pop some and keep walking."

Source: Getty / Jamie McCarthy
10. She's Not Afraid to Be Vulnerable
In The New York Times, Kristen shared her insecurities about Bridesmaids. "The nerves for me about the movie are all just personal. It's like you're a painter and you have a gallery show — and you've been working on it for years, and you want to show people and it's who you are and you're expressing who you are. And ultimately it doesn't matter what they think. And you are, like, OK . . . but do they like it?"
11. She Admits She's Not Perfect
Kristen told Interview about her teenage years in 2011, saying, "I probably lived more of a rock-star life when I was 15. I got in trouble a fair amount. I cared more about hanging out and skipping school than studying. Which I am not recommending teenagers do if they read this."
12. She Has Big Plans For Her Future
In 2013, Kristen told Vanity Fair about her dream retirement plans. "I could see myself staying in New York. I can actually see myself walking through Central Park with an ill-fitting wig. That and flip-flops. Even in the winter. I'll be that lady."

Source: Getty / Steve Jennings