LL Still Has Everyone Believing In Her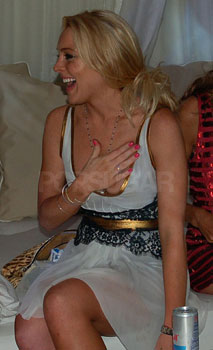 Lohan's I Know Who Killed Me only managed to make a measly $3.4 Million over its opening weekend (not to mention getting some pretty painfully bad reviews), but perhaps we spoke too soon in dooming Lohan's next project. The producers of Dare to Love Me (the tango movie) are standing behind their starlet, even saying that since filming isn't set to start until October 1 everything should be able to remain right on schedule. Well, judging from Lindsay's track record that sounds a little like wishful thinking to me.
While LL has remained remarkably quiet since her arrest last week, she's still impossible to avoid. Her newest ads for Jill Stuart have just been released (check them out here) along with a statement from the designer in support of Lindsay and her "efforts to get back on track and on a healthful road to sobriety and rehabilitation." She also called out the restaurants and bars that "comp these young people and the paparazzi that harass them relentlessly." Well, it sounds like even LL's best efforts to self-destruct won't deter people from having faith in her. Hopefully, this time she can pull herself together once and for all.