Lamar Odom's Drug Abuse Scandal
It's Official: Khloé Kardashian Has Filed For Divorce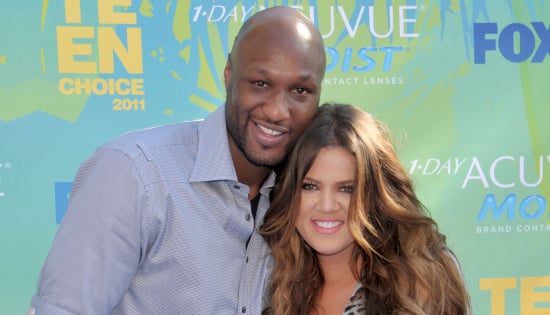 Over the past few months, Khloé Kardashian has been making headlines along with her husband, Lamar Odom, after it was revealed that he was suffering from substance abuse problems. The two were on a rocky road for many months, but in October, it looked as if the two had reconciled their relationship and that Lamar was back on the sober path. However, that all changed in November when a video was leaked that showed Lamar rapping about cheating on Khloé. Now, Khloé has officially filed for divorce, ending her marriage with Lamar for good. We've rounded up a timeline of what led Khloé to this decision.
July 3
Lamar is caught on camera destroying a photographer's equipment after he asked the star about the cheating allegations that are being lobbied against him. Khloé defended her husband on Twitter following the incident, writing that she "loves" him. The charges were later dropped, but Lamar agreed that he would pay for any damage that he caused to the photographer's equipment. The couple reportedly say that they are planning to renew their vows in the Fall.
July 23
Khloé shares photos of herself with Lamar, including snaps of them snuggling and kissing. The last photo on her Instagram feed of Lamar is from July 29.
Keep reading for the entire timeline.
Aug. 21
New reports surface that Khloé and Lamar are not living together. Lamar is seen carrying luggage out of his home.
Aug. 23
TMZ reports that Khloé and Lamar's marriage troubles do not stem from cheating allegations and instead are caused by Lamar's drug use. It is later revealed that Lamar was reportedly using crack and prescription drugs. Lamar had previously had issues with drugs after violating the NBA's drug policies twice in 2001. After his violations, the basketball star admitted that he was using marijuana. In a later interview in 2003, Lamar admitted that he couldn't control himself in LA and felt like he was fighting his "father's demons." Lamar's father was allegedly addicted to heroin.
Lamar was reportedly not using drugs when he was playing for the Clippers. As of this Summer, Lamar is unsigned after completing his contract with the LA basketball team; however, there were reports that his former team, the Lakers, was interested in re-signing him.
Aug. 25
Khloé tweets, "Really hard to sit here and listen to people talk sh*t about my family! F*ck you and shame on you! I'm too protective for this sh*t."
Aug. 30
Lamar is arrested for a DUI in the early morning hours. He refused to take a chemical test once in police custody, which automatically results in a one-year suspension of his driver's license. He was later released on $15,000 bail.
Sept. 1
TMZ reports that Khloé has issued an ultimatum to Lamar — either he completes rehab or he has to move out of their home. However, new reports came out that Lamar had moved out of his home with Khloé back in May and was living out of a hotel room. Khloé tweets, "As much as I wish I were made of steel, I'm not."
Sept. 4
Lamar reportedly checks into an inpatient treatment center for drug and alcohol abuse. A source tells People magazine that the basketball star "realized he needs help."
Sept. 5
After news broke that Lamar had checked into an inpatient rehab center, the Clippers star reportedly checks out after one day of treatment. New reports also surface that Lamar had been spending $800 a day on drugs over the Summer.
Sept. 6
Lamar hires Robert Shapiro, one of the attorneys who served on O.J. Simpson's legal team and a close friend of the late Robert Kardashian, to represent him. According to the Los Angeles Times, Lamar was seeking treatment for his substance abuse problems but would not be checking into an inpatient rehab center.
Us Weekly reports that Khloé didn't know where Lamar was and that she had "cut him off," but others say the couple had been in contact. A source also tells the magazine that she's exhausted by the reports but also "doesn't think he ever went to rehab."
Sept. 20
The pair reportedly hasn't seen each other for weeks, and sources tell Us Weekly that Khloé's assistants packed up Lamar's clothes and dropped them off at his loft.
Sept. 28
On Khloé and Lamar's fourth wedding anniversary, she shares a picture of the sweet gift she received from friends.
Oct. 2
Friends in Khloé's inner circle say a split is "unavoidable," because she's starting to realize that her marriage may be over. Meanwhile, the reality star takes to Twitter to talk about love, saying, "Promise me u'll always remember: u're braver than u believe. I am brave because of u. The love u gave made me brave. All we need is love#KKO."
Oct. 6
With rumors of Bruce and Kris Jenner's split bubbling up and further speculation over her relationship with Lamar, Khloé turns to Twitter again to address the public scrutiny.
Speculate all you want. The armor I put around MY family can't melt or even scratch. So continue to throw your daggers. (1)

— Khloé (@khloekardashian) October 7, 2013
You will never cut us, you will just tire yourself out. Strong and united we will still stand.

— Khloé (@khloekardashian) October 7, 2013
Oct. 8
Bruce and Kris Jenner's split is confirmed, and the same day, Khloé and Lamar are photographed together for the first time in months. The pair is seen driving in her car, heading to Kris's house.
Throughout the day, Khloé shares several cryptic tweets about love, patience, and judgment.
Not all scars can be seen and not all love can be explained. The deepest love is also the hardest to express. Only those in it, understand

— Khloé (@khloekardashian) October 8, 2013
If I love u. Its a deep 4ever love. Ride til the end. Family/friend.Its simply called love. I take it seriously. Dont judge unless u r in it

— Khloé (@khloekardashian) October 8, 2013
We all have our own journeys in life. So even if u don't accept mine. Be kind....We all have a journey 2travel & I want to walk mine, my way

— Khloé (@khloekardashian) October 8, 2013
At the end of the day, Khloé vents her frustration with one final tweet, saying, "My motto lately…. F*ck you."
Oct. 30
Lamar appeared upbeat about his relationship with Khloé when he told a reporter that the two are "unbreakable" and are "doing wonderfully." He also said he would continue to wear his wedding ring because "it's a beautiful ring from a beautiful wife."
Nov. 22
TMZ released a video of Lamar rapping incoherently into a cell phone, bragging about cheating on Khloé and using drugs. The video was reportedly shot at some point in November, meaning it had to have been recorded after Khloé and Lamar had allegedly reconciled.
Dec. 2
Lamar was noticeably absent from the Kardashian Christmas card this year. However, Rob Kardashian, Kanye West, and Scott Disick were also left out of the high-fashion card.
Dec. 13
Khloé officially files for divorce from Lamar. The November video of Lamar rapping about cheating on Khloé and talking about drug use was reportedly the final straw.