In The Land of Women, Adam Brody
Start Slideshow
ADVERTISEMENT ()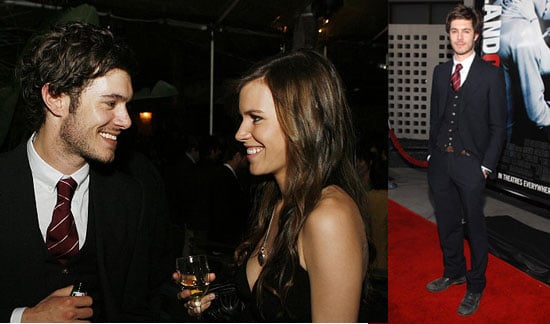 0
In The Land of Women, Adam Brody
Adam Brody was looking dapper (that is his style these days, after all) at the LA premiere of In The Land of Women last night. He also looked to have enjoyed himself chatting it up with his costar Christine Danielle. Innnnteresting. The other leads in the film, Meg Ryan and Panic Room's Kristen Stewart, were no shows. At least Adam is cute enough to hold down the fort. While the movie's release has been ominously delayed a few times, I still think it looks pretty cute. I just have to get used to seeing my Seth without Summer (both in the OC sense and in the real like he and Rachel broke up a while ago, move on sense). Sigh. Apparently he's still getting used to post-OC life too. Here's more:
"There is something to the steady job, it's nice," he said. "Even if it can be a drag or doesn't feel artistically satisfying there is something nice about stability. As much as you bitch about your job there is some security knowing it is there. When you do take it away it is definitely a different feeling.

"But I certainly don't miss it, not when I am sitting in my backyard on Monday morning thinking, 'Wow, I could be in the Cohen kitchen for six hours right now!' It's really fun actually, I enjoy the routine. The routine of Sunday routine, just doing it Monday through Friday."
Awww, I'm sure he won't be out of work for too long. There's always room for a little emo brooding in the indie circuit, right? I just hope he doesn't veer too close to the mix-tape-as-movie territory. We only need one Braff.
To see some more pics from the premiere of cute Adam at the premiere (and chatting up his lady costar), plus JC Chasez (yay!) just