Lauren Conrad and Audrina Patridge Respond to Rumor LC Hooked Up With Justin Bobby
Lauren and Audrina Respond Justin Bobby Hookup Rumors
Lauren Conrad looked engrossed in her phone conversation out running errands with Lo in LA earlier today. Considering the drama that's going down with the rumors she hooked up with Justin Bobby, it's no wonder Lauren has her BlackBerry in hand. Audrina responded on her blog saying, "I'm not sure what to believe. Though Justin and I have not been exclusive for quite some time, these rumors are very confusing and hurtful. I can't comment on whether they are true or false." Lauren then blogged on her MySpace in response, implying that Spencer spread the story and saying: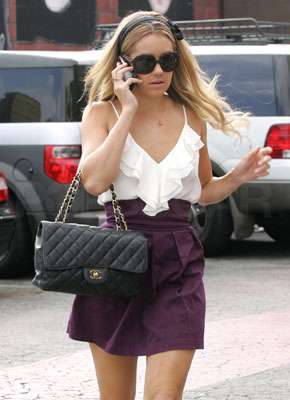 The rumor I'm referring to is that I "hooked up" with Audrina's non- boyfriend Justin.(eww.) This accusation is insulting on so many levels. I'm being accused of being a bad friend, a slut and a liar all at once. It would actually be funny to me if people weren't taking it seriously. Do they think I was swept away by his wonderful manners and his commitment to my friend? I love it when guys burp in my face. So hot! Seriously?? I have never even been in the same place as Justin when Audrina wasn't around. I have been there for Audrina for years of ups and downs with this guy. Now she is accusing me of hooking up with him?? It's the most awkward position to put me in because I can't defend myself without putting both her and Justin down.

Bottom line, I did not and would never hook up with Justin.

The worse thing is knowing that a friend, that I've known for years and even shared a home with, thinks that I'm capable of that kind of betrayal. I would NEVER hurt a friend like that!
To see what Lauren had to say directly to Audrina just read more
Audrina - We promised we wouldn't let people get into our ears and make us fight. You KNOW I didn't do this and I have never given you a reason not to trust me. What you are doing is hurtful and I don't want to fight with you. Whoever is telling you these things does not have your best interest at heart. I have always been there for you and now I'm being attacked for something I didn't do. We are supposed to be there for each other when other people do this to us and today you are the one doing it to me. Today you are the reason people are saying mean things about me. You asked me if I did this and I told you I didn't.