Lea Michele Talks About Cory Monteith After His Death
Lea Michele on Losing Cory Monteith, Going Back to Work, and the "Perfect" Glee Tribute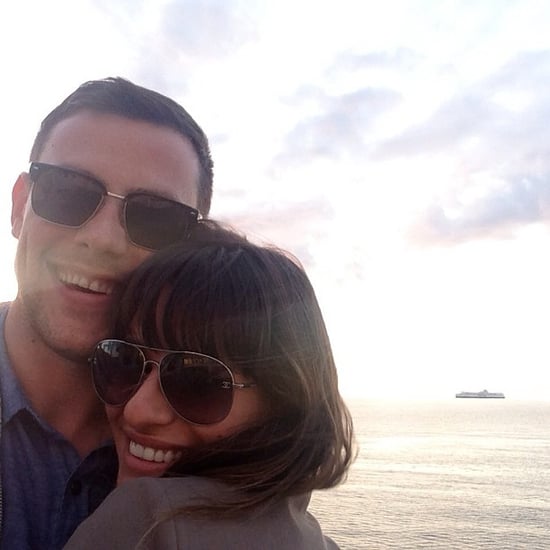 Lea Michele has made sure to keep the memory of her onscreen love and real-life boyfriend Cory Monteith close, and now she has opened up about his death in a recent Glee panel in LA. It's the first time that the actress has spoken out about Cory in an interview format since he passed away in July. She did, however, remember Cory in an emotional and touching speech at this year's Teen Choice Awards and has taken to social media to thank her fans for their support during the difficult Summer. During Tuesday's event, Lea addressed Cory's death while speaking to TV Week Australia, saying, "I feel like, for me personally, I've lost two people: Cory and Finn." She went on say that "there was no greater man" than her late love, adding, "I really woke up every single day feeling like I was being in some sort of spell or something, that I was lucky enough to have him in my life. For the time we spent together I consider myself very lucky."
After Cory's tragic death, many Glee fans wondered if Lea would quit the show and if production would even be able to continue without two of their biggest characters. Lea explained, "Everyone is asking, 'Is it hard to do this? Is it hard to be back at work?' But the truth is, it's no harder at work than it is in life, so we might as well all be together as a family supporting each other to get through this together. We had a beautiful memorial for Cory in the auditorium and some of the cast members sang and people spoke about him. It only felt right that we would do the same thing for Finn, so I felt it was very therapeutic."
About filming the show's special tribute episode, which airs on Fox this Thursday, Oct. 10, Lea's Glee costar Matthew Morrison revealed that he was blown away by her performance of the Bob Dylan song "Make You Feel My Love," saying, "She had one of the first songs we filmed for the episode and she did it so beautifully." Matthew also explained that the cast "knew we had to show up because our leader stepped forward and kind of gave permission to all of us to do it." Lea chimed in, saying that the tribute show is "perfect."