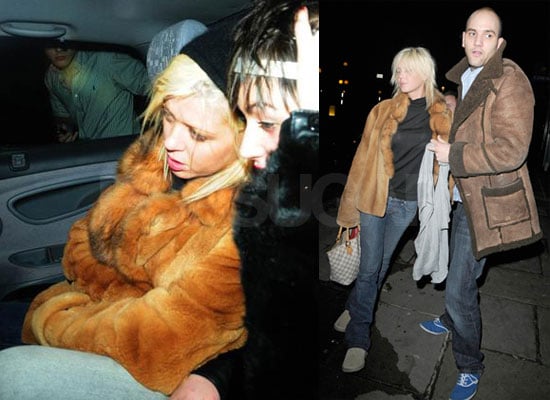 0
The Leaning Tower of Tara Is A-Okay
Tara Reid looked a little (okay, a lot) worse for the wear after a night out in London this week. She stumbled out of the nightclub Mahiki in her fur coat, and was barely able to hold herself up before pouring herself into a cab and heading to a friend's house. It was a sloppy scene to say the least. Considering those scary, skinny photos of her in a bikini from last month, methinks Tara's tolerance may not be what it used to be. She recently talked to OK! magazine about her weight (it's fine!) and party-girl ways (nonexistent!), here are highlights:
On that party-girl reputation: "What have I ever really done? Dance on a table? Who doesn't drink with their friends and have a good time? I don't understand why people punish others for being happy. . . . If I have a drink in my hand, it doesn't make me an alcoholic. If I want a glass of wine, I want a glass of wine. I shouldn't be afraid of it because of what the media might say. Anything you do, you're screwed. That's the lesson I've learned."
On her weight: "I'm not too thin. . . . I go up 10 lbs., I go down 10 lbs. . . . I was thin for a movie that I just finished [the upcoming horror film Vipers]. Now they're going to see me and say I'm too fat because I've gained 10 lbs. . . . I can't win!"
While I'm sure it's true that it's hard, especially for Tara, to get positive feedback in Hollywood, she's not looking so healthy these days. And as for her wild ways . . . well, at least she's not ashamed to say she likes to have a good time.