Lena Dunham Emails From Miranda July Project
You've Got Mail — From Lena Dunham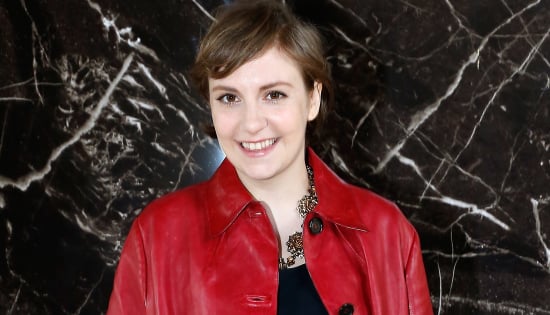 Lena Dunham offers an intimate glimpse into her life through Twitter and Instagram, but now you can dive into Lena's personal life by reading her emails, too. As part of artist Miranda July's We Think Alone project, Lena shared emails related to a theme chosen by Miranda. Covering everything from sad messages to love notes to business communication, the project featured 20 emails over 20 weeks from famous people including Lena, Kirsten Dunst, Kareem Abdul-Jabbar, and more. Since the project kicked off on July 1, she's shared messages sent to friends, colleagues, and her boyfriend, fun.'s Jack Antonoff. Today marked the end of the project, so take a look back at everything we learned about Lena via her outbox:
She's into "vag'd out" covers.
In April 2012, Lena sent Jack the link to Mirah's "Dancing in the Dark" cover, joking about the slowed-down version of the song.
---------- Forwarded message ----------
From: Lena Dunham
Date: Thu, Apr 26, 2012 at 2:39 PM
Subject: Springsteen by Mirah
To: Jack Antonoff

I love this cover and have a very slow dance to it that can only be done in front of a window at night. I'm sorry if you're like "why did you send me this slowed down/vag'd up business?" but I kind of think you'll like it.

See you later literally
L

p.s. Hate everything about having typed vag'd up. Hate it all.

https://www.youtube.com/watch?v=40P-zTyVxJM
She's not afraid to be honest with a friend.
Like something out of a Girls script, Lena emailed a friend in February 2012 to tell her that the guy she's been seeing just isn't so nice.
---------- Forwarded message ----------
From: Lena Dunham
Date: Sun, Feb 12, 2012 at 7:42 PM
Subject: Re: facebook
To: K
 
Listen to me. I am a woman who loves and adores and, I believe, understands you. You did nothing wrong. He is NOT NICE. He says not nice things in a nice voice so they seem nice but they are not. He isn't kind or careful with you, he wants to suck the kindness out of you, and if he's like this after 10 years of group therapy then G-d help us all. He's not for you bc he's not for anyone. Do you hear me? Good. I understand SO much the appeal, but he's not worth your energy and someone like art guy may not be perfect or right but he's starting on a good foot by offering some of himself to you and wanting to give you pleasureful times
 
Ok my lecture is done
 
Love
She's even witty in her love letters.
While traveling in India, Lena emailed her boyfriend Jack — spelling it out with the subject line "a love letter to Jack M. Antonoff" — and in it, she quips about everything from canceled ABC shows to a silly Doc Marten metaphor.
---------- Forwarded message ----------
From: Lena Dunham
Date: Mon, Oct 29, 2012 at 5:14 AM
Subject: a love letter to Jack M. Antonoff
To: Jack Antonoff

Dearest Baby,

I'm trying to keep a journal on this trip. Historically I have done really poorly with a journal. The idea of writing without an audience seemed futile at best and like a bad voice over on a cancelled ABC show at worst. When I was little I left my journal out, open, for my parents to find (then hid behind the counter waiting for them to read it so I could be incensed.) But somehow my book makes every piece of writing feel as though it has an eventual home (maybe that's how your album feels?) and gives record-keeping a kind of fullness it never had before. Which is good, because my old move was to write these long belabored emails to people at home and find a way to enjoy my travels by imagining them imagining me enjoying my travels. I think I can enjoy my travels on my own this time, but I did have one revelation:

I was walking through a beautiful Indian garden this morning (Lodi garden! The oldest in the city! It looks like if someone crushed Versailles with a giant Doc Marten) and passed a big green pond with a dozen disorderly swans. All the old people in my party were cooing about the swans but I was focused on this young couple, late teens or early twenties, curled up on a bench talking really animatedly. We spent 40 minutes walking around the garden and when we circled back they were still there, chatting like fiends. And And I thought of you, like always, and I felt I could spend four days on a bench with you and it wouldn't be enough time to hear all the stories you have to tell-- I literally want to know everything you have ever seen and what you felt like while you were seeing it. And I will be so much better my whole life for knowing those things.

I love you,
Lena
Keep reading for the rest of what we learned from Lena's emails.
She has the sweetest email sign-off.
---------- Forwarded message ----------
From: Lena Dunham
Date: Tue, Apr 27, 2010 at 11:32 PM
Subject: last gasp
To: Jennifer Konner

to bed i go. did you get an email with a copied and pasted 3 line description of marnie? if not, that means i am exactly right about the issue, which is that anything remotely related to my MS word is rejected by your computer, even copy n' paste jobs

do tell if it came through to your aol! that would be a miracle

bigg xo
L
She knows when to be assertive.
Having to share an angry email for the project, Lena picked a message that shows that she knows how to stick up for herself.
---------- Forwarded message ----------
From: Lena Dunham
Date: Mon, Oct 1, 2012 at 3:44 AM
Subject: Re: hey
To: A

You're being really unfair. I don't know what to say- you said my email yesterday made you happy then suddenly it really didn't. You've taken my words out of context and been passive aggressive with me in a way I don't understand. This started with you apologizing to me and became you expressing a huge amount of frustration. I can't seem to verbalize my apology in a way that doesn't offend you. I have a new boyfriend, I moved back to LA, and I meant that this life phase (my show being in the world, you moving in with yours) was new. If that offended you I don't know what to say. I have always felt like I was trying to prove I wasn't a horrible friend. That's definitely not new and frankly I'm completely sick of it. I don't want to defend myself anymore. Sometimes I don't text you back because I already feel like I'm in constant trouble and the time I do have I don't want to spend feeling that way. Take as many days as you need if this is how this conversation is going to go.
She blurs the lines of what's considered sexy.
In May 2012, Lena sent Jack a link to the nasal oil that "changed her life." It's love.
---------- Forwarded message ----------
From: Lena Dunham
Date: Sun, May 20, 2012 at 9:04 PM
Subject: Ponaris Nasal Emollient
To: Jack Antonoff

http://www.ponaris.net/

Is it unattractive to send you a link to a life changing nasal oil? I got it on Friday and every day since has been perfect
She's been snapping selfies since college.
In Summer 2007, 21-year-old Lena emailed a friend to talk birthdays, man parts, and the danger of compliments. Just as with her Girls writing, Lena somehow manages to shift from funny to crude to compassionate and poignant within a matter of seconds.
---------- Forwarded message ----------
From: Lena Dunham
Date: Sat, Jun 9, 2007 at 8:44 PM
Subject: it's your party you can cry if you want to
To: E

hey good thing,

how was your birthday daytime? did you ride your bike to midway mall to buy shorts? (that was such a cute plan.) maybe you ate some of that sorbet that really gets you going? cake? i know you're not that fond of cake-- didn't you once tell me you do something weird instead of having birthday cake, like sticking a candle in a frozen kiwi or something? i think i made that up...

both the dudes on my crew have stomach viruses, so they were close to falling over all day. then my friend Jen, who is this audacious pervy former model-turned-actress-turned nursing student, announced "this morning my boyfriend's penis smelled really bad" and both guys looked like they were about to vomit so much. then she said "i mean, not his penis, his foreskin... i mean... is that the kind of stuff i shouldnt say?"

i am going to ride my bike to see teddy's band play now. let me know how you're feeling when you're in the mood. i hope it was all so nice, that you were well taken care of. you were in my thoughts a lot today (just general contemplations about independance, unknown vistas, all the swell stuff that could happen for you, and soon...) was it a heavy birthday or a light one? and how would you rate your life thus far on a scale of 1 to 11?

xxL

p.s. my sister came home crying. we talked about it and she was sad because she feels like she gives everyone a lot of compliments and they never compliment her back, and she's frustrated. it highlighted for me what is dangerous about compliments. i don't think a desire for affection/appreciation is why i say nice things, but it birthed another good criteria: grace and i think  a person should make sure that their compliment isn't a subtle request for a return compliment, but rather something given because you feel it and you just cant hold it back.

p.p.s. i used my macbook to take a photo of me in my costume which is pretty offensive and i thought you might appreciate it, being my lover and all. it's like what 50 year olds do to spice up their sex lives.
Attachment:

She knows when to stay out of things.
In December 2012, details of Lena's book deal made their way to the web, and Gawker shared quotes from her book proposal. During that time, she sent a business email with the subject line "Notice of Copyright Infringement - Gawker.com / Lena Dunham (WRS 19207-002)":
---------- Forwarded message ----------
From: Lena Dunham
Date: Dec 10, 2012, at 9:37 PM
Subject: Notice of Copyright Infringement - Gawker.com / Lena Dunham (WRS 19207-002)
To: C, K, b, M, J

Hi All,

Thank you so much for your hard work getting the book proposal removed from various sites. I haven't been following too closely, however I do know that Gawker has made our demand to remove it public and used it as further ammunition for attacks. Of course I don't fully understand the business implications of any of this, but on a purely personal level I'd rather let it go at this point and focus on how much is still left to write and share on our terms, rather than add fuel to the web fire.

xo
Lena
She's not afraid to get political.
In October 2012, Lena participated in a "You Don't Own Me" PSA that served as a political call to action for women, a video that particularly targeted Mitt Romney's stance on Roe v. Wade and Planned Parenthood. After the PSA went viral, Lena emailed Judd Apatow and Girls showrunner Jenni Konner to talk politics and mean tweets:
---------- Forwarded message ----------
From: Lena Dunham
Date: Thu, Oct 25, 2012 at 10:19 PM
Subject: my obama PSA
To: Judd Apatow , Jenni Konner

is trending worldwide. see attached! i am SHOCKED and APPALLED by the right wing tweets I am getting-- not hurt, just amazed this whole side of the country is truly actively existing, calling women skanks like it's somehow a valid argument. I just hope the election is not the soul crushing colossal nightmare it could be. I am scared!
She embraces the L word.
There's a whole lot of love mentioned throughout Lena's series of emails, including this funny note she sent to Jenni Konner:
---------- Forwarded message ----------
From: Lena Dunham
Date: Fri, Dec 28, 2012 at 7:04 PM
Subject: in related news
To: Jenni Konner

I LOVE YOU.

also, do you want to read an essay i wrote about a college date rape-esque scenario while you are in hawaii?
She's not into confrontation.
When Miranda July asked the project participants to share an email they chose not to send, Lena picked a message draft related to some kind of confrontation.
---------- Forwarded message ----------
From: Lena Dunham
Date: May 12th, 2013
Subject: book
To: J

Hi J,

I'm a big fan of your work and the book. I am so grateful L sent it to me. It's a truly meaningful work that young feminists should have the chance to engage with.

But after a few lovely exchanges, L wrote me a series of very upsetting, paranoid and accusatory emails. I was saddened that our interaction became so bitter suddenly and without warning. She questioned my interest in, and understanding of, the book and my relationship to feminism as a whole. I'd love to meet you but I am not comfortable engaging with L in any way. It was just too disorienting and mean. Sorry to write that in an email, but I guess modern times require us too!

Yours,
Lena
She really adores her pup.
---------- Forwarded message ----------
From: Lena Dunham
Date: Tue, Apr 2, 2013 at 7:43 PM
Subject: Hi Tracy!
To: T, Laurie Simmons

Tracy,

So happy for the intro via my mom. I have heard such wonderful things about you. My dog, Lamby, is a rescue (age not clear) who is wonderful and sweet but has some bad anxiety issues that lead him to burrow, chew, and drink his own urine. His separation anxiety and general fear level are making his little life less fun (though he loves other dogs, daycare and his training sessions.) I thought perhaps his constant urinating (and drinking of that urine) was UTI based, but the vet checked him out and he was fine in that department-- she suggested prozac. I am hesitant to put the little boy on drugs and would love to have him meet you and see if we can ease his fear at all in a more natural way (we are already committed to training, a semi raw diet and plenty of exercise.) Thank you!

xxooLena