Lena Dunham's Girls won big at the Golden Globe Awards, and she joined her costar as well as creative partner, Judd Apatow, in the press room to talk about their honors. Lena continued to be sweet, gracious, and funny while Judd had nothing but praise for Lena. Check out their quotes: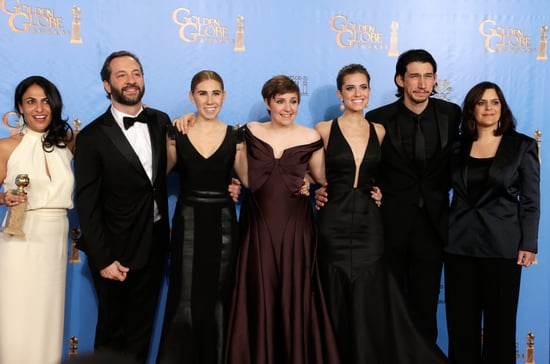 Judd on Lena: "I don't think she's any voice of any generation, but she has a very strong voice. The world is too diverse for there to be any one voice."
Lena on critics of Girls: "I think when you get criticism, you have to be elegant about it and understand that it's part of the gift. I think people dislike the show for plenty of reasons."
Lena on Jodie Foster's speech: "Jodie Foster's speech was mind-blowingly beautiful. I think that one of the most wonderful things about the speech is that it is really a complex assessment about what it's like to have a career in this business over a long period of time."
Lena on wearing high heels: "If I was as cool as people think I should be, I'd be in flats. I drank the Kool-Aid. I'm wearing the high heels."
Lena on why she thanked Chad Lowe: "Because Hilary Swank forgot. And because I'm an a**hole."