Lena Dunham Tweets About Christian Grey
The Funniest Celebrity Tweets of the Week
With the announcement of the new (and hopefully permanent) Christian Grey, Lena Dunham has seized the opportunity to tell us about her real-life Christian. In other hilarious tweets this week, Olivia Wilde shares one of her greatest fears while driving and Whitney Cummings shares the real reason people don't join Instagram.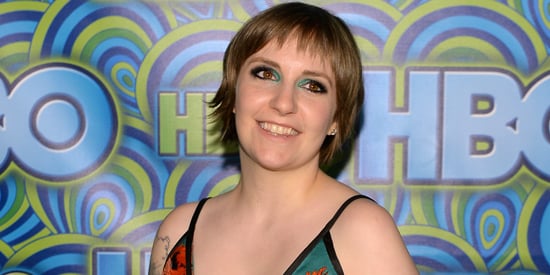 Check out all of our favorites below!


Something tells me this wouldn't make quite as sexy a movie.
(Wistfully) I had my own Christian Grey once. But he used a towel for a bed sheet and had a fat friend named Jeff.

— Lena Dunham (@lenadunham) October 24, 2013


So, in other words, Rob Delaney is going to be abject shame and embarrassment.
For Halloween I'm going as that feeling you get at a store when you try to refold a sweater properly & put it back on the shelf.

— Rob Delaney (@robdelaney) October 24, 2013


It's always best to be either eating or thinking about eating. Just saying.
The moments I'm not eating are somewhat torturous.

— Jim Gaffigan (@JimGaffigan) October 22, 2013


You can see the rest of the tweets after the jump.
#notlonely #payattentiontome #fullinstagramequalsfulllife
Stop boasting about how you're not on Instagram. I get it, you're not lonely

— Whitney Cummings (@WhitneyCummings) October 24, 2013


Because, Rainn Wilson, it's not pumpkin spice season! Get with it!
Culturally, why do we not embrace pumpkin flavored food & drink between January & September?

— RainnWilson (@rainnwilson) October 21, 2013


But misery loves company! Why won't anyone be sad with me?
It's such a bummer when someone you know is having a bad day while you're having a great day and you have to ignore them until tomorrow.

— Dane Cook (@DaneCook) October 23, 2013


You guys. Anders Holm just called Theodore Roosevelt insane.
"Speak softly and carry a big stick." Perfect advice to follow if you want people to think you're insane.

— Anders Holm (@ders808) October 24, 2013


Olivia Wilde has had one too many scarring sneezing incidents while driving.
Few things are as terrifying as sneezing while driving.

— olivia wilde (@oliviawilde) October 23, 2013


Huh. That's not how I remember the lyrics.
"If ya wanna go and take a ride with me / wear your seatbelt" - Nervous Nelly

— Megan Amram (@meganamram) October 23, 2013


Well, that's like pretty much every tweet ever, so good luck.
Is there a setting to block all tweets that contain food images and exclamation points?

— Mark Duplass (@MarkDuplass) October 24, 2013


I think Jimmy Kimmel just called all my fan mail spam, and I'm pretty bummed about it.
I spend more time flagging for spam than any employed person should

— Jimmy Kimmel (@jimmykimmel) October 24, 2013


Let's just go ahead and say yes.
Very excited to hear that Prince George has been baptized and has 7 godparents! I'm one of them, right? I've gotta be one of them.

— Ellen DeGeneres (@TheEllenShow) October 24, 2013


This sounds like a romantic comedy I kind of really want to see.
I'm in love with every firefighter

— mae margaret whitman (@maebirdwing) October 24, 2013


Michael Ian Black sure knows how to get you hot and bothered.
Sext: you have Dorito breath.

— Michael Ian Black (@michaelianblack) October 24, 2013