Leo's Blood Diamond Premieres in LA
Leo's Blood Diamond Premieres in LA
The cast of Blood Diamond hit the red carpet again last night, this time for the LA premiere at Grauman's Chinese Theater. We love that Leo is an activist for good things and it's great that he's found a new cause to be passionate about. Who knows if he can single-handedly change the diamond business, but it sure doesn't hurt to try. He says: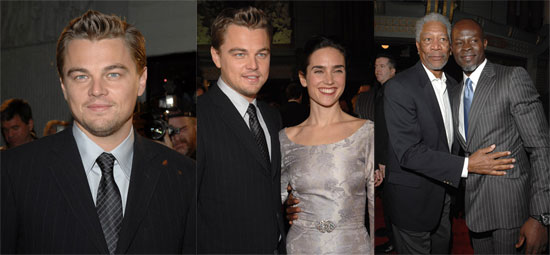 "Basically these diamonds have funded warlords to cause civil unrest and [led to] millions of people being murdered throughout Africa," DiCaprio said. "Child soldiers have to fight these wars, and [there are] millions of refugees."

"This movie is symbolic of what happens when we as consumers endorse a corporation and the way they do business by buying their products," DiCaprio said. "I could never have imagined that something that represents the symbol of love where we come from could have [caused] such devastation on a continent halfway around the world."
He's so convincing, but that doesn't mean you have to stop buying diamonds altogether. Leo says when buying your precious stones, just make sure to get certification that they aren't conflict diamonds. For more pics including Jennifer Connelly, Djimon Hounsou, Stephen Collins, Morgan Freeman, Benu Mabhena, Edward Zwick, and Caruso Kuypers just read more