Leo To Help Bring Peace, Environmental Harmony
Leo's visit to his girlfriend Bar's home in Israel certainly got off to a tumultuous start, but after the initial kerfuffle, the frenzy calmed down. The vacation didn't get less exciting though! This weekend, Leo and Bar were invited to sit down with Israeli Vice Premier and former Prime Minister Shimon Peres to discuss the political situation in the area as well as Leo's recent environmental activism. Here's more: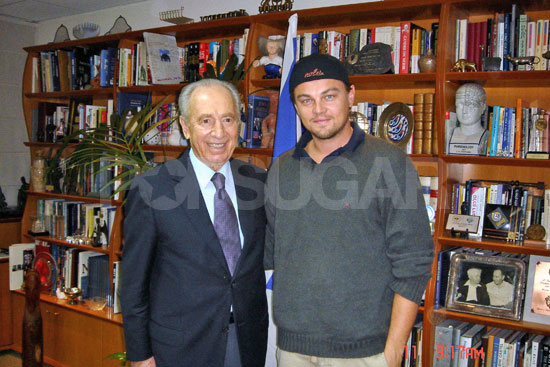 "The meeting was pleasant and interesting," says [Peres' aide]. "Shimon told Leo about his Peace Valley project [a joint Israeli-Jordanian-Palestinian economic development plan] and Leo spoke about [11th Hour,] his documentary on the environment."

The aide says Peres asked DiCaprio to help promote the stalled Middle East peace process and to further campaign for protecting the environment globally. According to the source, DiCaprio promised to help on both issues.
With Leo's commitment and passion, hopefully he will be able to be of help on both these crucial issues. Unfortunately, soon after the meeting, Leo learned that his aunt had passed away and had to cut his vacation short in order to be in Germany for the funeral. Our thoughts are with Leo and his family during this sad time.