Leo And Kate Will Never Let Go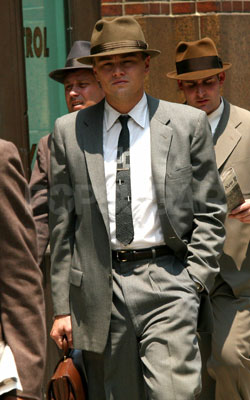 Leonardo DiCaprio is looking sharp in his 50's style suit and fedora on the set of Revolutionary Road. We were so excited to hear that Leo and Kate Winslet were reuniting since Titanic still holds a special place in our hearts. Even though these two have come a long way since then, Leo still has a lot of love for his co-star, saying,
"She's definitely an adult now. She's got children, she's married, she's very settled ... [and] I'm still exactly the same. It's great to catch up [with Kate]. And as much as we have grown up since that movie, we're still kind of the same people that we were when we did that movie. ... We've just enjoyed being around each other." Aww. Jack and Rose forever!