Leonardo DiCaprio could be one of the smartest male superstars out there today. After his huge success in Titanic, the actor did not run out and do a ton of follow-up blockbusters or roles just to make money. He went into hiding before taking roles he really wanted with A-list directors. He has also made sure to stay out of the press as much as possible. As a result, Leo successfully made the transition from child actor in Growing Pains to Oscar nominated actor. This is why he is also number 9 on Details Most Powerful Men. Here's more: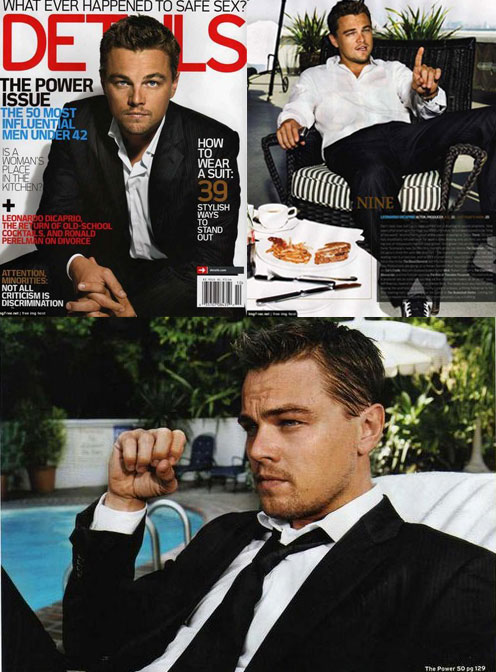 9) LEONARDO DICAPRIO
ACTOR, PRODUCER; AGE: 31 LAST YEAR'S RANK: 20

Don't look now, but Leo's most clichéd line is starting to sound prophetic. Nine years after starring in the most successful film ever, he is indeed poised to be "king of the world." And his rise is proof of the power of saying no. Since Titanic, DiCaprio has steadfastly refused work for work's sake, making only six films yet remaining one of Hollywood's highest-paid actors. He's grown into an intense, brooding force, Scorsese's new De Niro (this month's gritty cop drama The Departed marks DiCaprio's third film with the director). "The transition between young man and leading man is a hard one, and he did it triumphantly," says Ed Zwick, who directed him in the thriller The Blood Diamond, out this December. Now DiCaprio and his Appian Way Productions are going on a literary bender: Kurt Vonnegut's dystopian classic Cat's Cradle, Malcolm Gladwell's best seller Blink, Robert Ludlum's The Chancellor Manuscript, and the Pulitzer-winning The Rise of Theodore Roosevelt. "His instincts as a producer are as solid and exciting as the choices he makes as an actor," says Jeff Robinov, head of production at Warner Bros. The latest buzz also has DiCaprio playing the acid-testing guru Timothy Leary in a biopic, a fitting follow-up to his first starring turn, as a strung-out Jim Carroll in The Basketball Diaries. Coming full circle to realize his early promise? One more prophecy Leo is fulfilling.